Brand: ABL Lights
Origin: USA
---
The famous ABL MY work lamps is well known for its extraordinary strength thanks to its metal housing. Now equipped with the latest and most efficient LED technology and combined with a superior thermal design management, ABL MY LED 2700 is your powerful  and reliable lighting solution for your most demanding vehicles, forest and off road applications.
Forestry Harvester Lighting Setup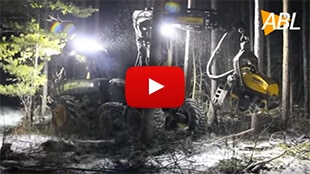 ABL MY LED2700 for Forestry Applications
Shown below is a video of a forestry harvester using the ABL MY LED2700 work lamps. This machine is predominantly set up with the MY LED2700 lamps except for 2 x ABL LR LED3000 work lamps for the cab.
Top cab (front): 4 x MY LED2700 + 2 x LR LED3000
Top cab (back): 2 x MY LED2700
Boom: 2 x MY LED2700
Lower cab (engine): 6 x MY LED2700 (2 front, 1 right side, 1 left side, 2 for the back).
Total: 16 lights
ABL MY LED2700 Work Lamp Specifications
| | |
| --- | --- |
| Bulb | 6 LED - 2700 Lumen |
| eLumens (effective) | 2700 lm |
| Colour Temperature | 6000K |
| Light Pattern | Flood |
| Consumption | 36W |
| Voltage | Multi 12-24V |
| Intensity | 1,5 Amp @24V |
| Polarity | Protected against polarity |
| Water Tightness | IP 68 - IP 69K |
| Operating Temperature | -40°C to +60 |
| Salt Spray | ISO 9227 |
| Housing | Aluminum |
| Lens | Hardened glass |
| Reflector | Free fom reflector + active lens |
| Warranty | 5 years |
Specification Sheets
Usually ships:
1-5D
Sell Qty:
ea
Ship Weight:
2.2 lbs (1 kg)
Catalog page:
New
Related Products