Brand: SALE ITEMS - Phoenix
Origin: USA
---
The 400W & 1000W MRSE Sturdilite® series is a hazardous rated heavy duty floodlight suitable for the harshest environments. Designed to absorb shock and vibrations, this fixture is perfect for large earth moving machinery and heavy equipment.
The shock absorbing socket design sets these heavy duty floodlights apart from their much lighter duty and cheaper competitors. If you want and place a value on reduced downtime then we recommend that you try the MRSE fixtures.
Also with the addition of the MRSE 1000 Lamp Glove Support system you will further extend lamp life and reduce equipment down time.
The 2,000W Competition. APS doesn't offer a 2000W MRSE in its range. There is a good reason for this. Downtime. A 2000W Metal Halide  Bulb is essentially and "overdriven" 1000W Metal Halide. The 2000W Metal Halide has a significantly reduced rated life of the bulb.
Compare the following:
MH 1000W BT56 Bulb: Rated Life ~15,000hrs for ~92,000 Lumens
MH 1500W BT56 Bulb: Rated Life ~3,000hrs for ~140,000 Lumens
MH 2000W T8/T9 Bulb: Rated Life ~3,000 hrs for ~170,000 Lumens
The 1000W versions are the more cost effective option when your evaluation takes into account the cost of down time. With a rated life 5x greater than 2000W bulbs even the use of 2x MRSE 1000W fixtures is more cost effective over the life of the machine.
DC Application: For those customers that run large DC machines, APS also offers a range of Heavy Duty DC-AC Invertors. Please click here.
Optics Options: A-Narrow Beam; B-Wide Beam; C-Very Narrow (Not available on 1000W Fixture); D-Very Wide. Primary fixtures used on heavy equipment are A & B optics.
Features:
Seamless marine grade aluminum housing; provides excellent corrosion resistance and is light weight for easy installation.
Thermoset powder coat finish, standard in Phoenix Green, 1/4" steel mounting bracket.
Heat and impact resistant lens, 7/32" thick heavy duty tempered glass, withstands temperature shock.
All external hardware is stainless steel to prevent corrosion.
Shock and vibration resistant ballast available. These are required for complete installation, please order separately.
High temperature silicone and EPDM gaskets provide a positive seal against dust and moisture.
Silicone and EPDM rubber lamp isolation socket. The multiplane socket float and lamp stabilizer absorb shock and vibration, holding the lamp in place to extend lamp life.
Splice box is supplied with 1/2" NPT tapped hole for connection to suitable ballast.
OEM: P&H • BI • Marion • Page • Manitowac
Compliances:
UL 1598, Suitable for outside Wet Location, and for Mounting within 4ft of the ground*
UL 1598A, Marine Type Electric Fixture, Outside Type (Saltwater)
UL 844, Hazardous Location, Class 1 Div 2 CSA Certified, Enclosure Type 4*, Type 4X**
Dimensions:
MRSE 400: H 17.5" W 24.125" D 9.375" [444.5 x 612.78 x238.12mm]
MRSE 1000: H 21.875" W 26.625" D 11.75" [555.6 x 676.3 x 298.5,]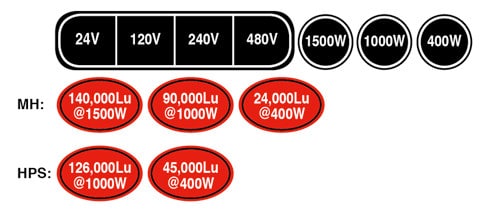 ---
Applications: Draglines, Cranes, Shovles, Blast Hole Drills, Dozers, Excavators, Port Container Cranes, Bridges