Brand: SALE ITEMS - Phoenix
Origin: USA
---
* Replacement for:
Phoenix Sturdilite® 120/500B R40 Floodlight
Phoenix MS 500 QH Marine Quartz Halogen Floodlight 500W
Phoenix MS 1000 QH Marine Quartz Halogen Floodlight 1000W
The SturdiLED™ is a super-rough service LED floodlight designed for industrial and mining environments. Featuring solid state LED technology, the SturdiLED offers excellent energy efficiency as well as ultimate vibration resistance. Applications include: shovels, blast hole drills, cranes, off-road haulers, utility and emergency vehicles, equipment cabs, towers, wheel buckets, and other demanding environments.
Phoenix SturdiLED Series LED Floodlight Specifications
Construction
Marine-grade aluminum frame, LED module, and cover
Adjustable steel mounting harp
White thermoset powder coat finish
Hardware
Marine-grade (316) stainless steel
Light Source
Philips Lumiled light emitting diodes (LED) modules
Up to 23,000 lumens (fixture)
Up to 300W (fixture)
CRI >70
CCT 5400K
50,000 hour rated life
Conformal coated circuit boards
Amber modules available
Color Temperature
Cool White (Standard)
Neutral White (Contact factory)
Warm White (Contact factory)
Construction
Marine-grade cast aluminum housing
Heat sink designed to maximize heat dissipation and extend LED life
Hardware
316 stainless steel external hardware
Light Source
Conformal coated Luxeon T LED board
CRI ≥ 74
CCT 5300K
50,000 hour rated life)
Lens
Impact-resistant, UV-stable polycarbonate lens
Spot (28°) & flood (45°) beam angles
Replaceable
Driver
UNIV (120-277V; 50/60 Hz)
DC options (12V or 24V)
Replaceable, fully potted driver
Over-voltage, over-current, and short-circuit protection
Numerous drive currents available:
Low output (18W, 1600 lumens)
Medium output (29W, 2400 lumens)
High output (37W, 2900 lumens)
Finish
Thermoset powder coat finish
Black, verde green, gray, white, silver, or bronze
Mounting
Shock mount base provides exceptional shock
and vibration protection
Captive M10 single bolt mounting
Angle lockability provides aiming versatility
Cord/Plug
72.0 in (182.9 cm) cord with pigtail standard
Plug options:
Deutsch connector on 6.0 in (15.2 cm) cord (DTSCH)
NEMA 5-15 plug on 72.0 in (182.9 cm) cord (5-15)
Visor
Optional visor protects lens, directs light,
and reduces glare (VIS)
Ambient Operating
Temperature
-30°C to 50°C (AC)
-30°C to 80°C (DC)
Estimated Weight
Fixture: 9.5 lb (4.3 kg)
Packaged: 11.0 lb (5.0 kg)
Compliances
ETL/cETL Certified to:
UL 1598 Suitable for Wet Locations
UL 1598A Marine Outside Type (Saltwater)
CE (Pending)
IP67
Warranty
5 Year Limited Warranty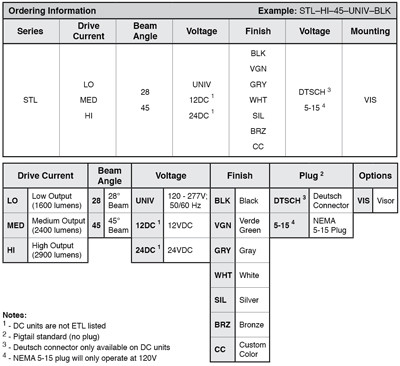 ---
Applications: Shovels, Blast hole drills, Cranes, Off-road Haulers, Utility and Emergency Vehicles, Equipment Cabs, Towers, Wheel Buckets, and Other Demanding Environments, Salt Water Environments, Helicopter Landing Pads, Fishing Boats, Tractors & Loaders, Heavy Moving Equipment