Brand: PSL
Origin: UK
---

Subsea Lighting System by PhotoSynergy Ltd (PSL)
The SLS9000 (or LIGHTPATH) is a subsea lighting system, which enhances safety for all parties operating in the subsea environment. The increased visibility is beneficial to both the individual diver, his colleagues in the water, the Bell man and the supporting ROV pilots, who can monitor for potential umbilical snagging risks. The diver can be identified by the use of different illumination colours (Green, Blue or White).
The LIGHTPATH patented fibre illumination system is based on side-emitting optical fibre, creating a continuous and flexible line of light. Measuring only 5mm in diameter and typically 75m in length, it carries light and no electrical power. LIGHTPATH can easily be wound into the lay of an existing umbilical, allowing the retro-fit of the illumination system.
The system can be supplied with 3 outs of the same colour if required. There is an option for a non-penetrating switch which has the facility for on, off and flash. A fourth colour red is available for near surface or marine on deck applications.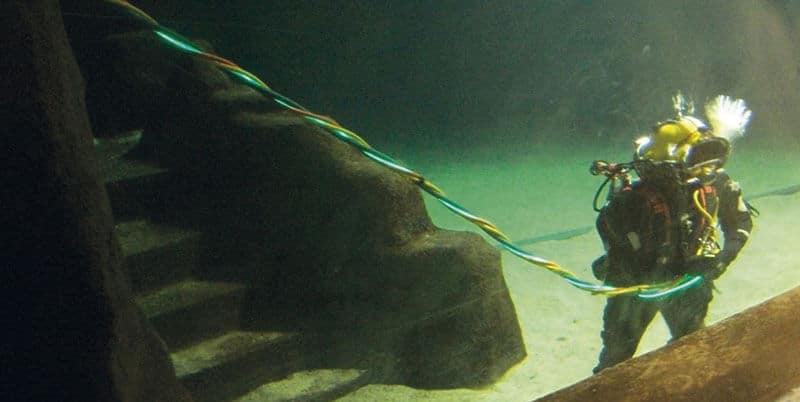 Options
The SLS9000 (Model: PSL-SLS9000) is a 3 output channel version of the SLS5000 designed primarily to illuminate saturation excursion dive umbilicals for both divers and the bellman and hence 3 colours; green, blue and white. This unit is operational to a depth of 500m (50bar).
The SLS7000 (Model: PSL-SLS7000) is a single LED source unit available in green, blue or white and capable of operating to a depth of 3000m.
The SLS5000 (Model: PSL-SLS5000) is a single LED source unit operational to a depth of 500m (50bar).
SLS9000 (Subsea Lighting System) Specifications
| | |
| --- | --- |
| Dimensions | 140 x 140 x 56mm (excluding connectors and switch) |
| Weight | 2.0 Kg |
| Electrical Connection | Wet-mate MCBH-5-MP |
| Mating Connector (supplied) | MCIL-5-FC with filter and 5m cable |
| Power | 24V @ 0.9A (12V @ 1.8A) |
| Consumption | 21W (max) |
| Colour Options | Green, Blue, White (Red* is optional) |
| Optical Coupling | Optical Pozi Lock (fibre quick connect) |
| Operating Modes | On / Off / Flash (with optional switch) |
| Optical Window | Sapphire |
| Pressure Vent | Helium relief valve |
| Depth Rating | 500m (50 bar) |
| Operating Temperature | 0°C to 40°C |
*Red is recommended for near surface
Specification Sheets
---
Applications: Tether lines, restraint systems (inc golden gate), lighting of tool boxes, guide routes into wrecks, lighting of confined spaces, hand-rails, open hatches, stairs and gangways,
---
Dimensions:
Width: 5.5" (140 mm), Height: 4.7" (120 mm), Length: 5.5" (140 mm)
Related Products