Brand: Collision Alert Systems
Origin: USA
---
The SPV PreView® System is a Cost Effective Solution
with backing accidents becoming more common and repair cost ever increasing, the PreView® system is a cost-effective object detection device. The PreView® system was designed with patented technology that utilitizes a minimum number of standard components. State-of-the-art design for manufacturability and test practices were used from the initial stages of development to the volume production stage.
Small, Compact Size with Concise In-cab LED Display and Audio Warning System
The detection unit mounted to the vehicle is circular and measures 5.25" in diameter. It can be mounted on a bracket or mounted behind any non-metallic surface.
The Standard PreView® system's in-cab display unit utilizes a series of L.E.D to display relative distance to the object. The display unit also provides an audible tone that increases in speed as an object becomes closer. The in-cab display can be mounted anywhere in the cab, providing the operator with the optimum flexibility to meet their needs. In addition, a volume switch has been added to allow three different buzzer volume settings.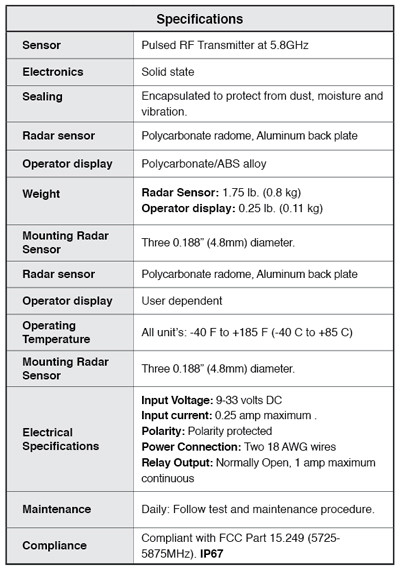 Download Product Specification Sheet (PDF US Letter Size) USA
Download Product Specification Sheet (PDF A4 Size) AUS
For more information click on the PDFs below:

VEHICLE TYPES