Brand: Streamlight
Origin: USA Design Made in China
---
The Key-Mate is world's smallest flashlight. This bright, lightweight, machined aluminum, single LED flashlight stays brighter longer. It comes equipped with a swivel clip that allows it to be attached to keys or equipment, or secured to the person.
Reflector optics deliver up to 400% more lighting range than traditional penlights. Easily attaches/detaches to just about anything via a convenient pocket clip or key ring.
Features and Benefits
Up to 96 hours run time.
Includes a neck lanyard.
O-ring sealed for water-resistance.
Powered by 4 alkaline button cells (included).
100,000 hour lifetime high-intensity LED with reflector optics.
LED available in white (10 lumens) or green (2.6 lumens).
Length: 6 cm or 2.36 inches
Weight: 255 grams or 9 oz
Colours: Black or Titanium, white or green LEDs, and RealTree Hardwoods High Definition (HD) Green with green LED.
Meets applicable European Community Directives.
Coloured and Infrared Lens available.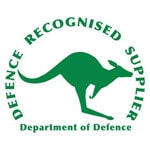 ---
Applications: This is a mission essential item where a bright white or green light source is required but space and weight is an issue, especially in an emergency. A must for any inclusion in a personal survival kit or team medical kit. Also very handy for clearing weapons, fault finding on vehicles and communications equipment.
---
Dimensions:
, Length: 2.36 " (59.9 mm)