Does your fleet of heavy machinery use an audible warning signal that can effectively cut through high ambient noise levels caused by other heavy worksite machinery? Can it also withstand the harsh operating environments often found in mining, ports and other busy extreme worksites?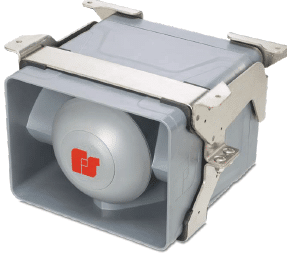 The eHorn-HV (EHORN-HV-024) by Federal Signal is a versatile and durable electronic horn that's ideal for noisy environments.  Without the need of an air compressor, this electronic horn is designed with three sound pressure levels ranging from 96 to 117 dBa at 10' (106 to 127 at 1m) while producing two tone outputs from the same unit, making it ideal for use as an emergency warning, start and dismissal, general alarm and evacuation signal.  You can set it to replicate the full rich tones of the widely popular Federal Signal's Model 52 or 55/56 electromechanical horns.
Built for harsh operating environments thanks to its corrosion resistant and weatherproof enclosure, its potted internal electronics and external heavy-duty mounting bracket will allow the unit to withstand high-vibration environments, while also making it suitable for use with off-road heavy vehicles such as haul trucks, loaders, shovels, and drag lines, as well as port machinery such as port cranes, straddle carriers and ship to shore cranes.
To learn more: Click Here