Voltage: 24V DC

Project Scope
APS was requested to supply a light design simulation for the new PC2000 shovel fleet using the NEW ABL LED8000. The customer asked for urgent turnaround using only 4 of the LED8000 fixtures (32,000Lu effective / 360W). A key consideration in this project was minimizing the cost (being careful not to over spec the lighting design); but still providing the equipment owners with fixtures that were durable and proven in these tough conditions. Previous competitor simulations for the PC2000 had used up to nine fixtures. Providing a claimed total lumen output of 67,500Lu at 688W.
Proposed Solution
There were two keys to meeting this project specification:
First was in understanding where the customer wanted the light, and at what LUX levels. These levels were set at 50Lux or better within 10M of the rear of the shovel; and 200Lux or better on the bench face. With only four fixtures it was agreed to position 1 fixture forward on the cabin of the shovel; 1 fixture forward on the RHS of the shovel; 2 fixtures on the rear of mount locations of the shovel (RHS & LHS on the counterweight), as shown in the above images.
Second was to set up the LED8000 with a beam combination that would allow lighting to spill in close to the machine and also project out onto the bench face. This was achieved by using ABL's new Asymmetric Lens and the ABL Flood Lens. The final result as seen in the following lighting maps. Target lighting levels were achieved using the LED8000 lamps with an optimized number of fixtures providing better directed light levels, significantly lower current draw and less cabling. The modular design of the LED8000 provide beam pattern customisation options and lighting redundancy in the unlikely case of failure in one of the heads.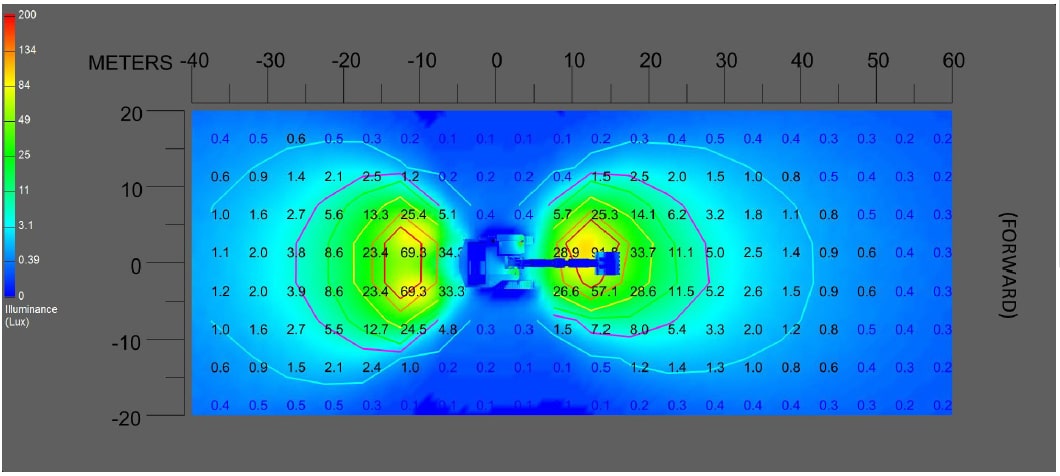 Birds Eye View: Lighting Simulation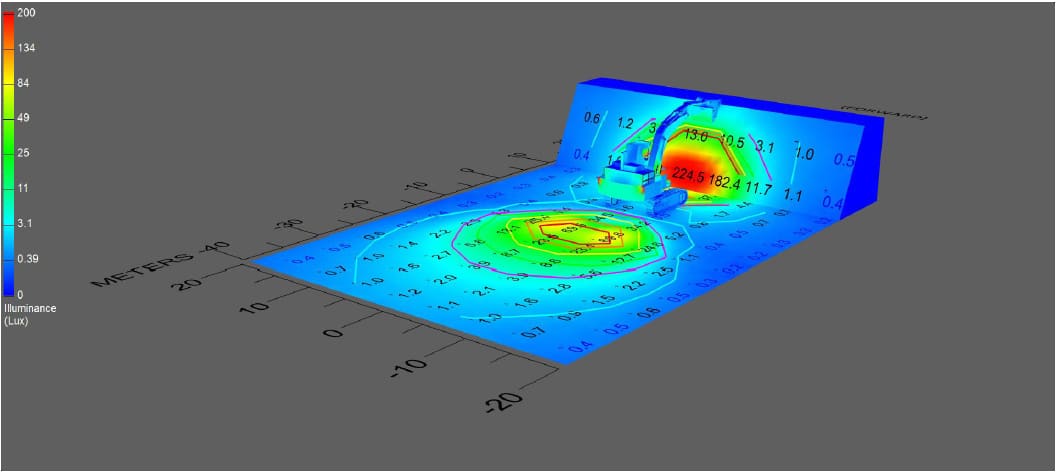 Bench Face: Lighting Simulation