Installing a permanent mount mini-bar or beacon requires drilling into roof your truck which many are hesitant to do, especially if it is their personal truck.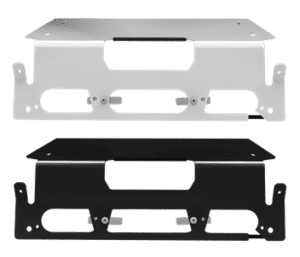 Before, people have turned to the magnetic mount solution to place signalling devices on the roof without damaging the vehicle, but the increase prevalence of aluminium body vehicles have led people to search for an alternative. The 3rd brake light platform by ECCO is designed to fit the 2009-2020 aluminium body Ford F150, F250 and F350.  The platform is easily installed by clamping behind the factory 3rd break light. The mount allows you to permanently install various type of signalling and safety lights to the roof of vehicle without drilling or damaging the cab.
This is the perfect solution to cleanly and safely mount a minibar, beacon, work lamps, or directions to the roof of your Ford work truck. * Must specify if your truck has halogen or LED 3rd break light to provide correct platform.
To learn more: Click Here