The Federal Signal Model 52 is specifically designed to be used by off-road vehicles.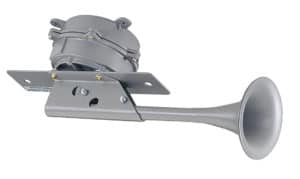 Producing 114dBAs provides a very loud sound which you would expect from an airhorn, without the need for an expensive compressor. Built to withstand the harshest of conditions with the housing made out of die-cast aluminium and the internal components made from zinc-coated steel or stainless steel. The Model 52 is completely watertight and is resistant to corrosion.
The robustness of the Model 52 has made it popular with many construction OEM manufacturers. The resonating horn can be found on a variety of equipment including excavators. Backhoes, compactors, loaders, tractors, bulldozers, trenchers, and scrapers.
To learn more: Click Here