The APS Haul Truck is a great model for you to build with your children. Please allow approximately 2.5 to 3 hours to build.
Build-time Breakdown
Cutting pieces: 40 minutes
Pre-folding / folding pieces: 40 minutes
Gluing pieces: 1 hour and 20 minutes
Recommendations
Suitable for ages 8 and up.
Parental supervision recommended.
Please monitor your children when working with craft tools such as scissors.
Use a craft glue such as a quality glue stick for gluing all the tabs, wheels and other components Do not use dangerous glues such as super glue.
Print-friendly Instructions
To print these instructions in a printer friendly format, please click: APS Haul Truck - Print-friendly Instructions (PDF)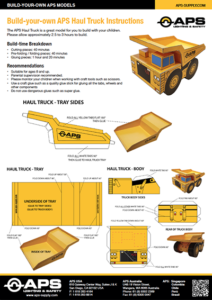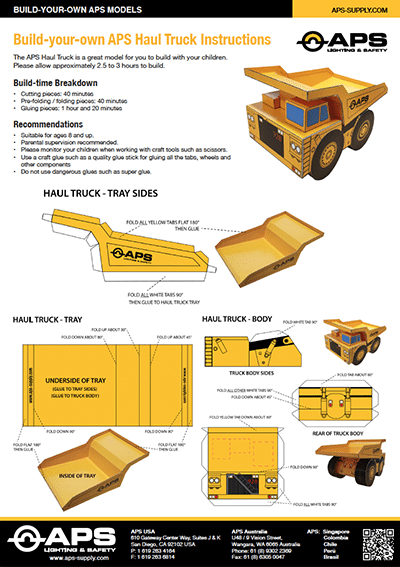 Hints & Tips
Carefully cut around the edges of all the pieces. Accurate cutting means a more professional finish.
Pre-fold all the dotted lines with a ballpoint pen and ruler. First, hold pieces up to the light to see a bend line. Draw a small mark on each end (i.e. opposite side that is not seen). Place piece on cutting board and use a ballpoint pen and ruler to redraw the bend line. This creates a pre-fold making it easier, quicker and a lot more accurate to fold on the bend line.
Use your glue stick to glue both contact areas first, wait 20 or so seconds, and then firmly press together. Move or slide piece into position for perfection. After a few minutes, firmly apply pressure for a second time to ensure a strong bond.
When attaching wheels, ensure that the four wheels sit perfectly flat on a hard surface such as a table.
---