Brand: J.W. Speaker
Origin: USA
---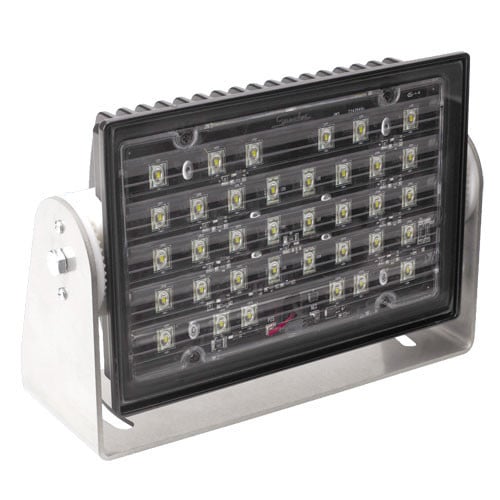 Click for:

When maximum light with the widest beam pattern is required, rely on the A520 Series Scene Light. This light is perfect for night time area lighting applications including mining, marine, construction, port, emergency vehicle and perimeter lighting. Vibration that contributes to bulb failures is not an issue with these LEDs.
Speaker have added the 3,000K Warm White model to the New A520 range. With a color temperature of 3,000K this LED is closer to the orange light color you get from a Halogen or HPS bulb.
White and Blue White LED's are not always best option for your lighting application.
Case: Coal Stock Pile. Problem HID 4,300K lamps were too white creating additional difficulty in being able to distinguish the edges / drop off of the stock pile. The A523 3,000K Warm White has been designed to replicate the lighting / color temperature of the Halogen work lamps, but with the added durability of the LED (4 year warranty), reduced current draw and greater number of lumens per watt.
J.W. Speaker 520 Series Scene Light – Warm White Features & Benefits  ▲
36 High Performance LED's
Beam Pattern: Wide Flood Beam
2,700 Lumens (W) Working Lumens; 4,320 Lumens (R) Rated Lumens at LED Source
[Compared to HID 3,200 Rated Lumens, Bulb Life ~2,500 – 4,000 hrs]
Warm White color temp, 3,000K [Similar to Halogen]
4 Year Manufacturer Warranty
Heavy Duty Anti-vibration Interlocking side Mount (pictured), also available in bottom and flush mount options.
IP 67 Ingress Protection Against: Dust, High Pressure • Washdown, Heavy Seas, Temporary Immersion
J.W. Speaker 520 Series Scene Light – Warm White Specifications  ▲
| | |
| --- | --- |
| Light Source | LED |
| Beam Pattern | Wide Flood |
| Input Voltage | 12V DC or 24V DC |
| Current Draw | 7.5A @ 12V DC |
| Mounting | Side Mount (A523), Bottom/Pedestal Mount (A522), Flush Mount (A524) |
---
Applications: Mining, Oil & Gas, Marine, Agriculture, Construction, Lighting Towers, Port, Utility, Emergency Vehicle Applications
J.W. Speaker 520 Series Scene Light – Warm White Parts Enquiry ▲