Brand: True North Gear
Origin: USA
---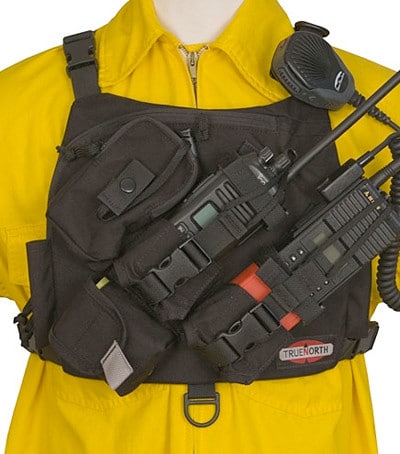 Click for:

TRUE NORTH RADIO CHEST DUAL UNIVERSAL HARNESS
Redesigned for greater comfort and function!
Now featuring side-zip on internal pocket for faster access, and redesigned radio holders for ease of use. Our unique suspension system keeps radio harness comfortably on your chest, without sagging or swinging. Can also be mounted directly to your web gear shoulder harness with optional radio chest integration straps. Holds most sizes of radios from Bendix King down to Icom and Kenwood.

True North Radio Chest Dual Universal Harness Features & Benefits ▲
Designed to carry Bendix King, Motorola, Icom, Thales, M/A-COM and Kenwood radios
Both radio pockets are the same size
Mesh back plate allows airflow and eliminates multiple straps
Pocket for writing tools, penlight, and other instruments
Large map / notebook pocket with large half-moon zipper closure
Pocket for spare battery or small mobile phone
Can mount directly to your line pack shoulder harness with Integration Straps
Slots for holding two pens (sharpie or ballpoint)
Zippered front pocket for Kestrel or GPS
Weight: .80 lbs
Materials: 1000D Cordura®, Nylon Webbing, 3M™, Nylon Hardware
Colors: 

Cordura® – Item: RH200C