Brand: Vision X
Origin: USA
---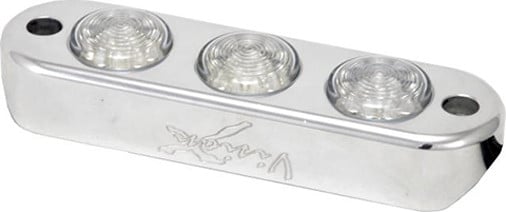 Click for:

Vision X Universal Billet LED Pods Features & Benefits  ▲
Your Choice of Color(s)
3 Pod Billet tubed Frame Mount
Simple Installation
Weather Resistant
Fifteen 5mm LEDs Per Pod
Universal led pod features a billet mounting base and 15 hi output 5mm LED's which put out over 1 watt of LED light. Weather resistant pod is a direct 12 volt hook up. Available in either single or triple pod models, and either flat or tubed frame mount. The tubed mounts feature an upgraded billet aluminum mount for roll cages and tubular frames fitting either 1 34″ to 2″ tubing. And the flat surface mount provide a unique rugged mount for any flat surface. With models available in a varying number of colors, the triple (3) pod mounts can be customized with any three colors of your choice.
Vision X Universal Billet LED Pods Specifications  ▲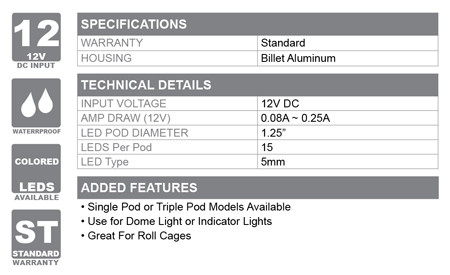 Vision X Universal Billet LED Pods Specifications Flyer (PDF)  ▲