Brand: Vision X
Origin: USA
---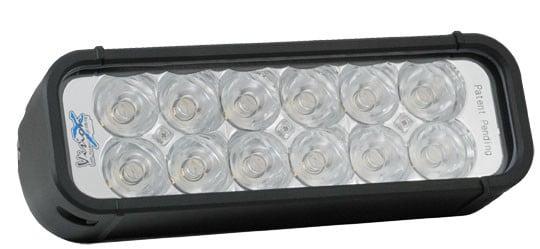 Click for:

The Xmitter LED Light Bar is designed for On and Off Road use. Each weatherproof low profile light bar produces tremendous light output with a 12″ bar producing 3600 lumens at the source. 100 more lumens than a 35 watt HID while draw HID while drawing only 4 amps and boastingan astonishing life span.
Each light bar is manufactured of stainless steel and aluminum for strength  and durability, but measuring in at less than 3″ tall and 4″ deep, Xmitter Light Bars are perfect for mounting in tight spaces where traditional lights would never fit. Vision Xmitter Light Bars are availableextrusion to match any existing mounting holes and it allows for horizontal and vertical adjustment. Tubing/roll cage mounts are also available in 1.5″, 1.75″ and 2″ black anodized billet aluminum, sold separately.
The strength of the Xmitter LED light Bar is in providing an intense light on the ground immediately below the Bar and then also projecting the light out in front of the machine. This allows for better detection of machine edge work areas where most other work lamps are providing the work area predominately out in front of the vehicle.
The LED Xmitter bar is ideal for Dirt Bikers, snowmobilers, ATV ond other people looking for a light source for their low power ride. The bar will automatically adjust itself to lower amperage so it can even run off a stator on a dirt bike.
Dimensions:
6″ Xmitter Version: 6″ (152.40 mm) x 3.05″ (77.47 mm) x 5″ (127 mm)
9″ Xmitter Version: 9″ (228.60 mm) x 3.05″ (77.47 mm) x 5″ (127 mm)
12″ Xmitter Version: 12″ (304.80 mm) x 3.05″ (77.47 mm) x 5″ (127 mm)
16″ Xmitter Version: 18″ (457.20 mm) x 3.05″ (77.47 mm) x 5″ (127 mm)
22″ Xmitter Version: 22″ (558.80 mm) x 3.05″ (77.47 mm) x 5″ (127 mm)
32″ Xmitter Version: 32″ (812.80 mm) x 3.05″ (77.47 mm) x 5″ (127 mm)
42″ Xmitter Version: 42″ (1066.80 mm) x 3.05″ (77.47 mm) x 5″ (127 mm)
---
Applications: Off-Road Racing, Construction, Industrial, Agricultural, Mining, Commercial, Forest Service, Marine, Military
Vision X Xmitter LED Light Bar Single Stacked Parts Enquiry ▲