The Power Grid™ 1/4 zip dual hazard shirt is both fire resistant (FR) and dual hazard, providing maximum warmth in extreme cold conditions.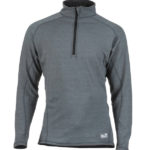 The 4-way stretch fabric offers enhanced comfort and improved range of motion, and its unique grid construction maximises warmth, whilst minimising weight and improving breathability. In fact the weight has been decreased by over 20% while increasing the Arc Rating from HRC1 to HRC2.
Click here to learn more about this product.