They say that black has a "slimming" effect, but your eyes aren't deceiving you – the new Model 770 and 771 LED worklights really are this thin!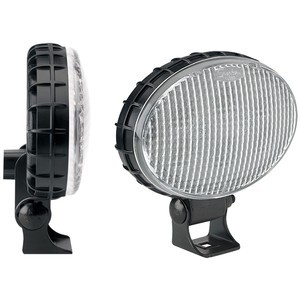 Measuring just 2 inches deep, these revolutionary new low profile worklights feature a compact polycarbonate housing that makes them the perfect solution for tight mounting spaces. The impact-resistant polycarbonate lens and housing, coupled with solid state electronics, make these new worklights some of the most durable lights on the market.
The Series A770 comes in two different voltage configurations – dedicated (12V) and a multivoltage (12-48). The 12V version comes with either a flood or trapezoid beam pattern and puts out A700 effective lumens. The 12-48V version comes in flood, spot, or trapezoid beam, patterns and has an output of 690 effective lumens.
The Series A771 comes in 12-48V configuration with a multitude of beam pattern options: flood, spot, vertical flood and vertical trapezoid. 700 effective lumens.
Features & Benefits
Super thin profile allows mounting in places other worklights won't fit
Long-lasting LEDs mean never having to replace another bulb again!
High performance white LED (high color temperature)
Impact-resistant polycarbonate lens stands up to harsh conditions
IP67 "Weather Rated"
Integral Deutsch connector receptacle
4-year limited warranty
For more info on the Speaker A770 Series click here