Light Cannon 25W LED by Vision X – Shining with Unprecedented Distance and Versatility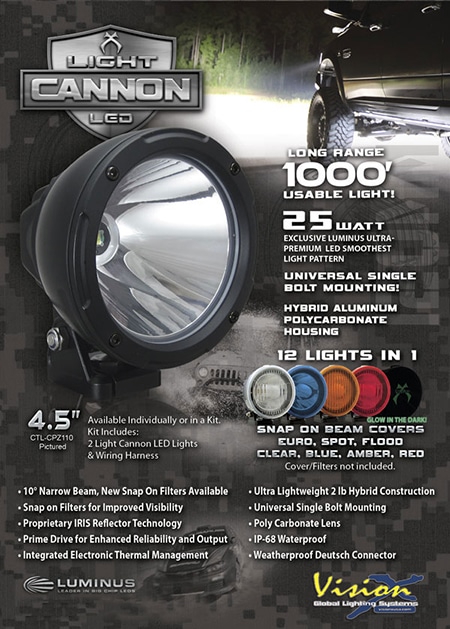 The new 120 millimeter (4.5″) artillery from Vision X marks another groundbreaking move by the progressive light manufacture, as they have formed an exclusive alliance with Luminus, the world's leading big chip LED manufacture. The 25 watt Luminus Ultra-Premium LED combined with Vision X's Prime Drive, Integrated Thermal Management, and proprietary Iris Reflector Technology produce amazing lighting distance and reliability, with a smooth light pattern.
This leading technology is captured by a lightweight, high strength Hybrid Aluminum/Polycarbonate housing (only 2lbs.), providing the optimum combination for enduring the hottest, coldest, wettest (IP-68 waterproof rating) and most rugged conditions.
Up to 13 different Light Cannon Cover Filters are available. Each polycarbonate translucent cover also protects the Light Cannon as well as improving vision in dust, fog or snow. Each is finished with a glow in the dark printed "X" for a cool look at night when the Light Cannons are off.
For more info Click here