Brand: APS Lighting & Safety
Origin: USA
---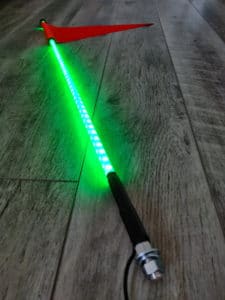 Click for:

Available in 3, 4, and 6 feet lengths
APS LED Safety Whips feature a safety flag and a flexible LED encased opaque tube that lights up with a 360° radiant glow to add additional safety. It's powered by a 12 volt battery or an optional lithium-ion rechargeable battery pack, and is available in: 3 lengths (3, 4, and 6 feet), 7 colours (blue, red, green, yellow, pink, white, orange), and 2 flag types (pennant or mesh). The flag top is manufactured with premium grade rubber grommets for holding the flag in place while allowing the flag to rotate freely with the wind. The tightly sealed rubber cap on the top adds to durability and allows for submersion under water.
The 1/2" CNC-machined aircraft aluminium billet base is quick connect ready, and offers a highly durable and rust free operation. The wire plug features corrosion-free contacts; can withstand underwater submersion and heat; and is designed with the ability to quickly plug and unplug the whip to the power source. Optional spring mount allows for maximum flexibility to your buggy whip, providing additional confidence of not breaking the whip at the base where it's most rigid.
APS LED Safety Whips Features & Benefits  ▲
Easy to install
Very low power draw – only 1.44W (3ft whip)
Durable / Flexible / Waterproof
Available in 3, 4, and 6 feet lengths
7 different colors to choose from
Pennant or mesh flags available
Optional spring mount available
Quick disconnect option available
Included Hardware
Wiring installation kit
Wiring instructions
Flag top
Bolt mounting hardware
APS LED Safety Whips Specifications  ▲
| | |
| --- | --- |
| Type | LED |
| Programmed Flash Pattern | Waterfall |
| Colours (available) | 7 choices (blue, red, green, yellow, pink, white, orange) |
| Flag Types (available) | 2 choices (pennant, mesh) |
| Lengths (available) | 3, 4, 6 feet (91.4, 121.9, 182.9 cm) |
| Beam | 360° radiant glow |
| Voltage | 12V DC |
| Powered by: | 12V battery, Lithium-ion rechargeable battery pack (optional) |
| Power Draw | 1.44W (3 ft whip) |
| Base | 1/2" billet aluminium (CNC machined aircraft aluminium) |
| Mounting (optional) | Optional spring mount allows for maximum flexibility and durability |
| Quick Disconnect (optional) | Silver, black |
APS LED Safety Whips Specifications Flyer (PDF)  ▲
---
Applications: Utility and service vehicles in mining and construction