Brand: Federal Signal Corporation
Origin: USA
---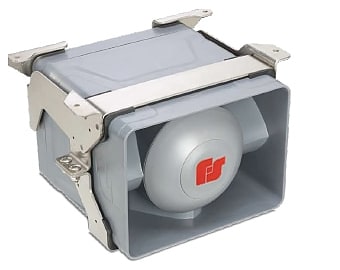 Click for:

High-Vibration Resistant Electronic Horn
The eHorn-HV by Federal Signal is an electronic horn capable of producing two high decibel horn tone outputs from the same unit through internal amplification and tone circuitry. Model eHorn-HV utilizes proprietary technology to replicate the rich, full tones of Federal Signal's Model 52, 55 and 56 electromechanical horns. The eHorn-HV is factory-set to the Model 52 tone and is easily field-configured to select the Model 55 and Model 56 horn tones.
Model eHorn-HV's non-metallic, polycarbonate housing is corrosion resistant and weatherproof for improved durability in harsh industrial environments. With Type 4X and IP66 enclosure ratings, eHorn-HV is ideal for a wide variety of environmental conditions, including outdoor use.
The eHorn-HV's potted internal electronics and external heavy-duty mounting bracket allow the unit to withstand high-vibration settings. The high-vibration resistance makes this model ideal for warning needs of any off-road vehicle. Model eHorn-HV can be mounted on any relatively flat surface with the supplied stainless-steel mounting bracket.
Model eHorn-HV is available in 24V DC and has no duty cycle. The electronic horn is designed with three SPLs (Sound Pressure Level) ranging from 96 to 117 dBa at 10' (106 to 127 at 1m) depending on the tone selected.
Federal Signal eHorn-HV Features & Benefits  ▲
Available in 24V DC
Produces one of two tones at three SPL (sound pressure levels)
Replicates Federal Signal 52 and 55/56 horn tones
Stainless steel brackets and hardware
Produces 96-117 dBa @ 10' (106-127 dBa @ 1m) depending on tone and voltage
Indoor/outdoor use
Type 4X, IP66 enclosure
Marine Rated
Federal Signal eHorn-HV Video  ▲
Federal Signal eHorn-HV Specifications  ▲
| | |
| --- | --- |
| Voltage | 24V DC |
| Operating Current | 0.4 - 3.0 A (52 Horn Option), 0.24 - 3.3 A (55/56 Horn Option) |
| Operating Temperature | -40°F to 150°F (-40°C to 66°C) |
| Decibel Output | 96-117 dBa @ 10' (106-127 dBa @ 1m) depending on tone/voltage |
| IP Rating | IP66 |
| Enclosure Rating | Type 4X |
| Mount | Surface mount, stainless steel brackets and hardware |
| Weight | 15.90 (lbs) / 31.1 (kgs) |
| Dimensions (D x W x H) | 9.43" x 11.48" x 7.33" inches (239.5 x 291.6 x 186.2mm) |
Federal Signal eHorn-HV Specifications Flyer (PDF)  ▲
---
Applications: Quarries, open-pit excavation, coal mining, bucket-wheel excavators, gold/resource processing plants, crushing plants, mine conveyor systems, cement, stone crushing and grinding plants
Federal Signal eHorn-HV Parts Enquiry ▲