Brand: J.W. Speaker
Origin: USA
---
Click for:

This sideview mirror 2-light kit by JW Speaker is perfect for illuminating the places normal reverse lights don't reach, making reversing into difficult corners or unlit areas such as loading docks and construction sites a breeze.
This new kit uses the existing Speaker 4415 LED work light with a new pre-assembled shroud. Kit includes two lights, with a shroud mounted in right-hand and left-hand orientations.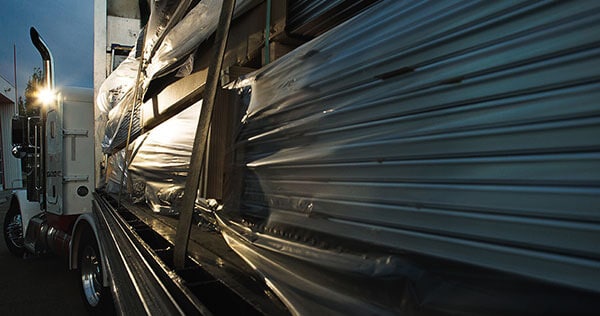 Utilising the powerful 4415 LED work light with a spot beam pattern, this new kit is intended to be mounted on the side mirrors or forward of the driver with the shroud (snoot) oriented to block the light from the driver / operator's eyes, providing maximum visibility rearward.
The kit can also be mounted elsewhere on the truck, such as on the back or side of a sleeper cab, to provide additional lighting.
Combining high performance optics, light weight design and new shroud for maximum visibility, the 4415 Side View Mirror Kit is ideal for commercial trucks & buses.
J.W. Speaker 4415 Sideview Mirror (2 Light Kit) ​Features & Benefits ▲
1,350 effective lumens of bright, white light for maximum visibility
Pedestal mount provides easy install for side view mirrors or sides of rear cab bunk
Shroud blocks light from getting inside the cab, eliminating any light directed toward the driver
Kit includes 2 lights and necessary mounting hardware
Available in spot beam pattern
J.W. Speaker 4415 Sideview Mirror (2 Light Kit) Specifications ▲
Light source
LEDs
eLumens
1,350 Lu
rLumens
2,450 Lu
Beam Pattern
Spot, Trapezoid
Current Draw
2.20A @ 12V DC
1.10A @ 24V DC
Voltage
12-24V DC
Operating Temperature
-40°C to +40°C
Shape
Round
Housing
Black die-cast aluminium
Lens
Hardcoated polycarbonate
Lens Colour
Clear
Electrical Connection
Integral connector in housing simulating Delphi
IP Rating
IP67
Mounting
Pedestal with (x1) bracket and swivel
Weight
0.9 (lbs) / 0.41 (kgs)
Dimensions (DxWxH)
2.24x3.35x4.94" (56.9x85.1x125.48mm)
J.W. Speaker 4415 Sideview Mirror (2 Light Kit) ​Specification Flyer (PDF) ▲
---
Applications: Long-haul trucks, railroad, speciality trucks, commercial trucks and buses
---
Dimensions:
Width: 3.35" (85.1 mm), Height: 4.94" (125.48 mm), Depth: 2.24" (56.9 mm), Dia: 3.35" (85.1 mm)
J.W. Speaker 4415 Sideview Mirror (2 Light Kit) Parts Enquiry ▲