Brand: J.W. Speaker
Origin: USA
---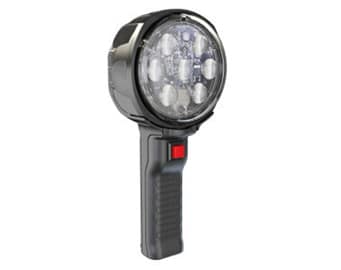 Click for:

The Model 4416 handheld LED work light takes the power and durability of the Model 4415 spot light to a new level of portability!
The ergonomic handle and low profile design make the Model 4416 not only easy to grasp and carry, but also ideal for laying on the ground for tasks such as vehicle inspections or oil changes.
The compact design also lends itself well to storing the Model 4416 under the seat or in a cup holder for easy access. The coiled power cord stretches up to 12 feet and plugs into your vehicle's cigarette lighter (12-24V).
The Model 4416 handheld LED work light combines high performance optics, rugged durability and compact design, making it ideal for forestry, rail, power sports and specialty vehicles.
J.W. Speaker 4416 Handheld LED Work Light ​Features & Benefits ▲
1,350 effective lumens of bright, white light for maximum visibility
New ergonomic handle fits gloved hand
Compact size, designed to fit into vehicle cup holder
6′ long 12-24V vehicle power cord that stretches up to 12′ in length
Additional vehicle power cord with battery clips & nylon carrying bag
J.W. Speaker 4416 Handheld LED Work Light Specifications ▲
Light source
LEDs
eLumens
1,350 Lu
rLumens
2,450 Lu
Colour Temperature
5000K
Beam Pattern
Spot
Current Draw
2.20A @ 12V DC
1.10A @ 24V DC
Voltage
12-24V DC
Operating Temperature
-40°C to +40°C
Shape
Round
Housing
Black die-cast aluminium
Lens
Hardcoated polycarbonate
Lens Colour
Clear
Electrical Connection
Deutch DT04-2P-E008
IP Rating
IP67
Mounting
Handheld
Additional Information
Light Includes:
1 x 6 ft (1.83m) long coiled 12-24V vehicle power cord, stretching up to 12 ft (3.66m) in length
1 x 3 ft (0.914m) long 12-24V vehicle power cord with alligator clips
Weight
N/A
Dimensions (DxWxH)
2.54x3.35x7.52" (64.4x85x191mm)
J.W. Speaker 4416 Handheld LED Work Light ​Specification Flyer (PDF) ▲
---
Applications: Mining, industrial, construction, agriculture, material handling, railroad, 4WD, specialty vehicles, trucks and buses
J.W. Speaker 4416 Handheld LED Work Light Parts Enquiry ▲