Brand: J.W. Speaker
Origin: USA
---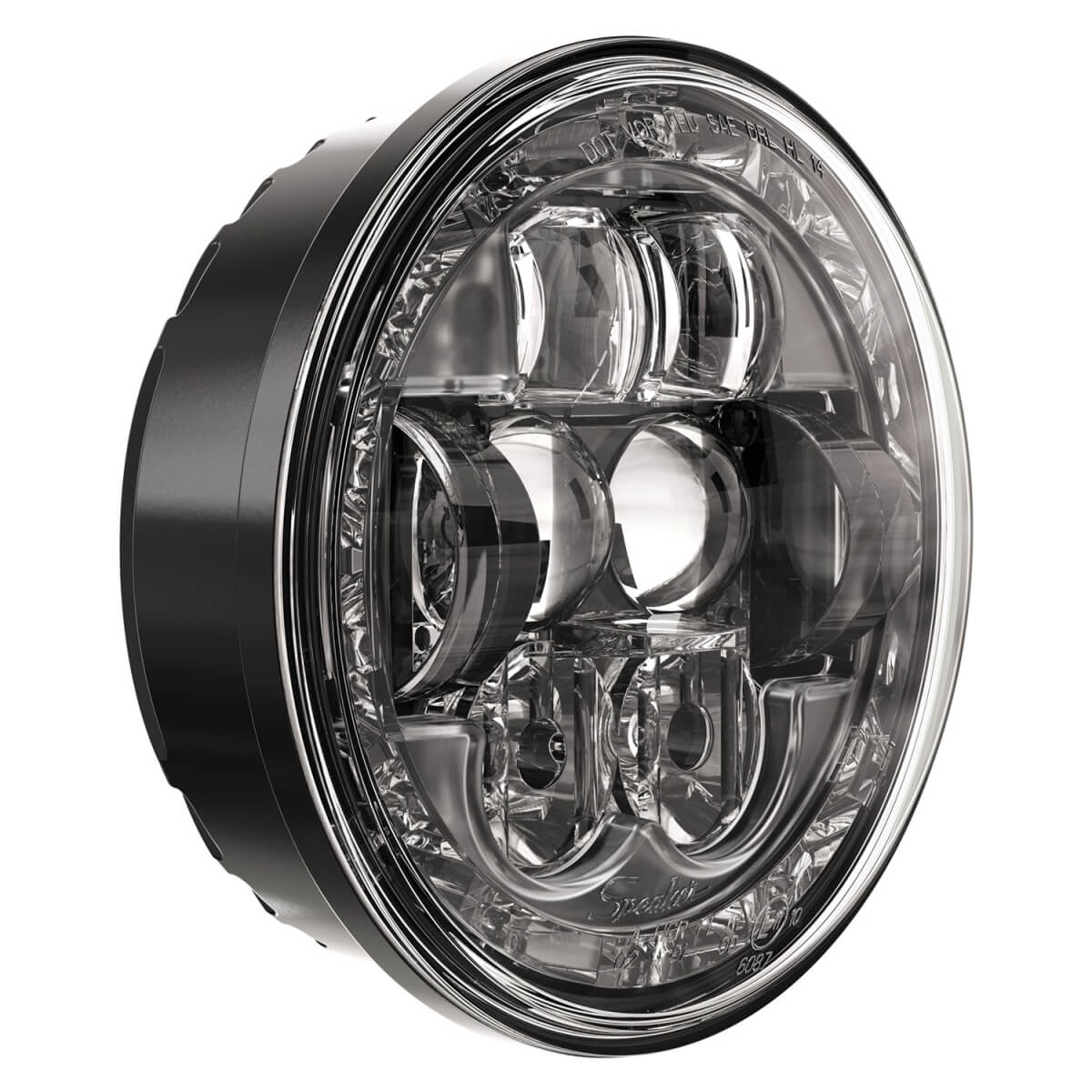 Click for:

The new 8631 Evolution LED headlight by JW Speaker brings you all of the same great features found in the 8630 Evolution LED headlight, with the addition of a turn signal. Amber in colour, the new turn signal is designed in the outer ring of the lamp to display a flashing circle when in use.
The 8631 Evolution LED headlight offers a powerful LED upgrade option for 5.75″ (PAR46) sealed beam headlights.
J.W. Speaker 8631 Evolution 5.75″ LED Headlight with DRL ​Features & Benefits  ▲
DOT/ECE compliant functions make this product 100% street legal
Easy plug and play installation uses Delphi wire connector
Turn signal, daytime running light (DRL) & front position (FP) functions utilise a outer ring at high intensities
Produces identical light output (2,925 effective lumens/1,000 raw lumens) to the 8630 Evolution headlight
J.W. Speaker 8631 Evolution 5.75″ LED Headlight with DRL Specifications  ▲
Light source
LEDs
eLumens
1,000 Lu (high beam); 630 Lu (low beam)
rLumens
2,925 Lu (high beam); 2,025 Lu (low beam)
Beam Pattern
Forward Lighting ECE left-hand (low beam)
Forward Lighting DOT/ECE (high beam)
Forward Lighting (DRL)
Signalisation (front position)
Signalisation (front turn)
Current Draw
2.20A @ 12V DC (low beam)
3.50A @ 12V DC (high beam)
1.10A @ 12V DC (DRL)
0.05A @ 12V DC (front position)
1.40A @ 12V DC (front turn)
Voltage
12-24V DC
Operating Temperature
-34°C to +49°C
Housing
Black Aluminium
Lens
Hardcoated polycarbonate
Electrical Connection
Integral connector in housing simulating Delphi
IP Rating
IP67
Weight
1.76 (lbs) / 0.8 (kgs)
Dimensions (DxWxH)
3.4x5.6x5.6" (86.4x142.2x142.2mm)
J.W. Speaker 8631 Evolution 5.75″ LED Headlight with DRL ​Specification Flyer (PDF)  ▲
---
Applications: Agricultural, Construction, Fire & Rescue, Forestry, Industrial, Law Enforcement, Lawn & Garden, Military, Mining, Off-Highway, On-Highway, Recreational, Specialty Trucks, Utility.
---
Dimensions:
Width: 5.6" (86.4 mm), Height: 5.6" (142.2 mm), Depth: 3.4" (142.2 mm)