Phoenix Products Company Inc. proudly introduces its latest innovation in LED technology—the HDL-LED Series.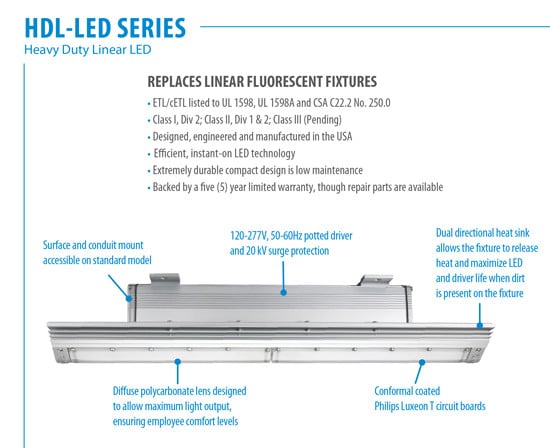 The HDL-LED has been designed to replace linear fluorescent fixtures. Using marine grade construction, conformal coated circuit boards and a potted driver, this fixture is designed to withstand the elements. The HDL-LED features a versatile, compact design and provides the essentials for almost any project including several output levels, lens options, mounting capabilities and emergency battery backup. The standard fixture is designed for continuous row mounting. It is designed for machine houses, engine rooms, mining equipment, conveyor lighting and various other demanding applications.
The HDL-LED Series provides 30W, 60W and 90W configurations delivering 3000, 6000 and 9000 lumens, respectively. The fixture features an AC or DC driver with a dimmable option.
For more info Click here