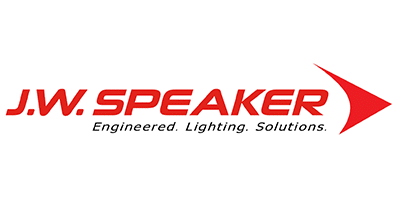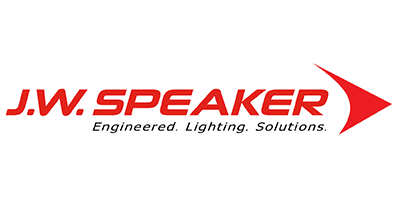 J.W. Speaker specialises in LED and other emerging lighting technologies and design, manufacture and assemble our products in Germantown, Wisconsin. Developing innovative and high-quality vehicle lighting solutions that are second to none, J.W. Speaker strives to create better performing lights.
J.W. Speaker evaluates lighting concepts to find the best cost-saving and value-added potential, and utilises Pro-Engineering (Pro-E) models for finite element analysis. This model is then checked against equipment designs to ensure accuracy.
J.W. Speaker designs analog and digital circuitry to support all lighting technologies (LED, HID, etc.) and I/O devices as well as controllers, converters, etc. J.W. Speaker serves a wide variety of original equipment manufacturers (OEMs) around the globe and covers a broad spectrum of applications in agriculture, automotive, commercial truck, construction, industrial, marine, material handling, mining, motorcycle, off-road 4×4, powersports, railroad, specialty vehicles, trucks & buses.
Products
Click for all J.W. Speaker products

Key Products
LED Work Lights
893 Compact Work Light |  892 Compact Work Light | 792 Compact Work Light | 526 Dual White Anti-Glare LED Work Light

LED Heavy Duty Work Lights
623 – 20″ x 9″ LED Work Lamp | 526 – 6″ x 6″ LED Work Lights

Forklift & Perimeter Lights
560 Warning Projector Light | 777 Gen. 2 Forklift Warning & ARC Safety Light | 529 LED Warning and Safety Light | 710 Forklift LED Work Light | 793 LED Safety Light | 770 Red / Blue 3″ x 5″ Oval LED Spot Light

AUX/Driving Lights
Trail 6 Round LED Off Road Lights

Sealed Beam Driving Lights
Model 93 LED Headlights | 8700 Evolution 3 LED Headlights | EVO J3 LED Headlight

Visual Warning
210 Solar LED Flasher LED Lights | 539 LED Strobe Light | 538 LED Strobe Light

Locomotive Lights
8770 LED Locomotive Headlight

Industrial Lighting and Warning
527 Red 5" x 10" LED "Keep Out" Zone Light

Fleet
272 CHMSL Camera Tail Light | A283 ECE LED Combination (Stop, Tail, Turn)

Catalogs
Click on the catalog below to open the PDF in your browser.

J.W. Speaker Catalog Headlight 2020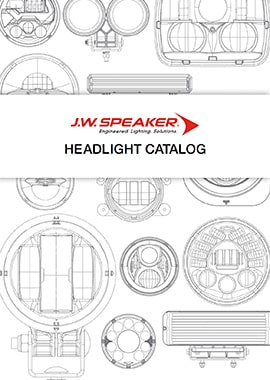 10.8 MB (medium size)
J.W. Speaker Catalog Work Light 2020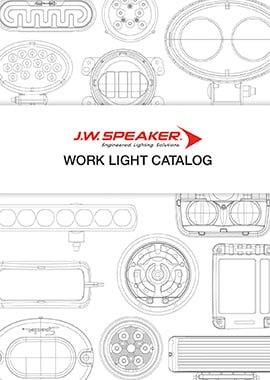 38.3 MB (large size)
Solutions
Click on the solution below to open the PDF in your browser.

J.W. Speaker Solutions Truck & Bus 2015
1.8 MB (small size)
J.W. Speaker Solutions Off-Road 2015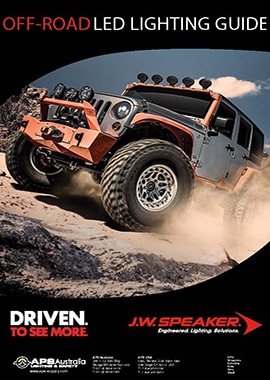 4.6 MB (small size)