Vision Motor Sports, located in Seattle Washington, was established in 1997 with the mission to revolutionize the lighting industry. Today we are doing just that. The Engineering, Product Development and Marketing is conducted from the Vision X USA office located in Algona Washington. Vision X Asia is home to the Manufacturing, Testing, and Inventory Logistics departments of Vision X Global Lighting. Today Vision X has the mission of developing partners around the World to continue developing and marketing the most advanced lighting products in the World.
The Key to Vision X's ongoing success, un-matched quality, valuing customer input, and performance is our team of world class engineers who have taken outlandish concepts from conception and put them into production. Our engineers are never afraid of re-examining products to find ways to better serve customers. Since its conception, Vision X has listened to the end user and put their ideas into action to further the quality, performance, and functionality of all vision X products.
Markets
You will find Vision X lighting is found everywhere. The military, border patrol, and even NASA have trusted Vision X on vehicles that cannot work with second best. Vision X is also trusted in the desert on off road vehicles that depend on seeing at night.
But Vision X Lighting Solutions are not just for the professionals; the Vision X product line is diverse and has product available for all markets. Vision X can be found on boat towers, off road vehicles, all terrain vehicles, and onroad vehicles like cars and motorcycles. Whatever the need, Vision X has a product to meet and exceed your expectation.
Marketing
For Vision X, building great products is great, but letting the world know out products is just as important. The Vision X marketing plan for the Offroad market focuses on 4 racers — Andy McMillin, Travis Pastrana, BJ Baldwin, and Patrick Richard. Andy McMillin was the winner of the Baja 1000 in 2009, was the 2009 Driver of the Year, and the 2009 BITD Champion. Travis Pastrana with Team Subaru USA was the 2006-2009 American Champion, 10 time X Games medalist, and holds the world record in the longest rally car jump. BJ Baldwin was the 2006 and 2007 Score Champion, 2008 Baja 1000 winner, and 2009 Baja 500 winner. And Patrick Richard of Team Subaru Canada was the 2008-2009 Canadaian Champion, 2004-2005 American Champion, and 2008-2009 Open Class Champion. Through these racers Vision X is letting the world and offroad markets about the World Class Lighting of Vision X.
Competitive Advantage
At Vision X, our products are constantly improving due to our rigorous product testing and standards we hold our products to. Our lights have been tested using the most rigorous tests available, including by NASA in their TORR Chamber. In this test, the light was tested at 10K (-323 F) and put through zero atmosphere tests. Vision X lights are used by NASA because Vision X lighting solutions stand up to the harshest conditions. Vision X lighting also goes through Ingress Protection testing which tests for the ability to keep out water and dust. Isolux Testing (for lumens at particular distances), Vibration Testing, and Thermal testing also take place. Many Vision X lights have also gained CE Approval. Through all these tests Vision X ensures the best lights possible are on the market.
INDUSTRIAL LIGHTING
Vision X 10W Junction Box Light | Vision X 140W Shovel/Dragline Light
Vision X 280W Shovel / Dragline Perimeter Light | Vision X 50W Junction Box Light
LED PRODUCTS
XIL-2.120 | XIL-S1100 | XIL-S4100 | XIL-S6100 | XIL-UF32 | XIL-UM4400 | HILWL-110
HID
VX-HID8500 | VX-HID6500 | VX-HID5700
HALOGEN
CATALOGUES
Click on the catalogue below to open the PDF in your browser.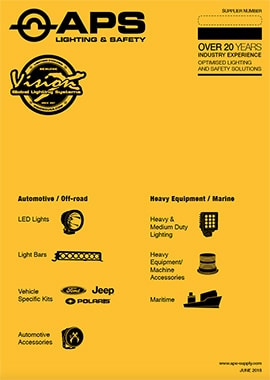 17.6MB (large size)