Brand: ECCO
Origin: USA
---
This product has now been marked as obsolete.
We have limited stocks left, so please don't hesitate to contact us via the Parts form below if you require this product.

Manufacturer recommended replacement is: 6262 Series.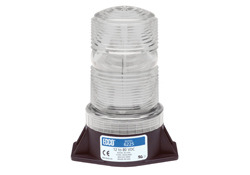 Click for:

6225 Series strobes offer a high quality yet economical lighting solution specifically intended for use in the materials handling industry. These lights are ideal for use in a broad range of industrial applications.
ECCO 6225 Series Specifications  ▲
| | |
| --- | --- |
| Type | LED - Flash |
| Voltage | 12-80V DC |
| Amps | 1.9A |
| FPM | 85 |
| Color Options | Amber, Red, Green, Blue and Clear |
| IP Rating | IP67 |