Brand: ECCO
Origin: US
---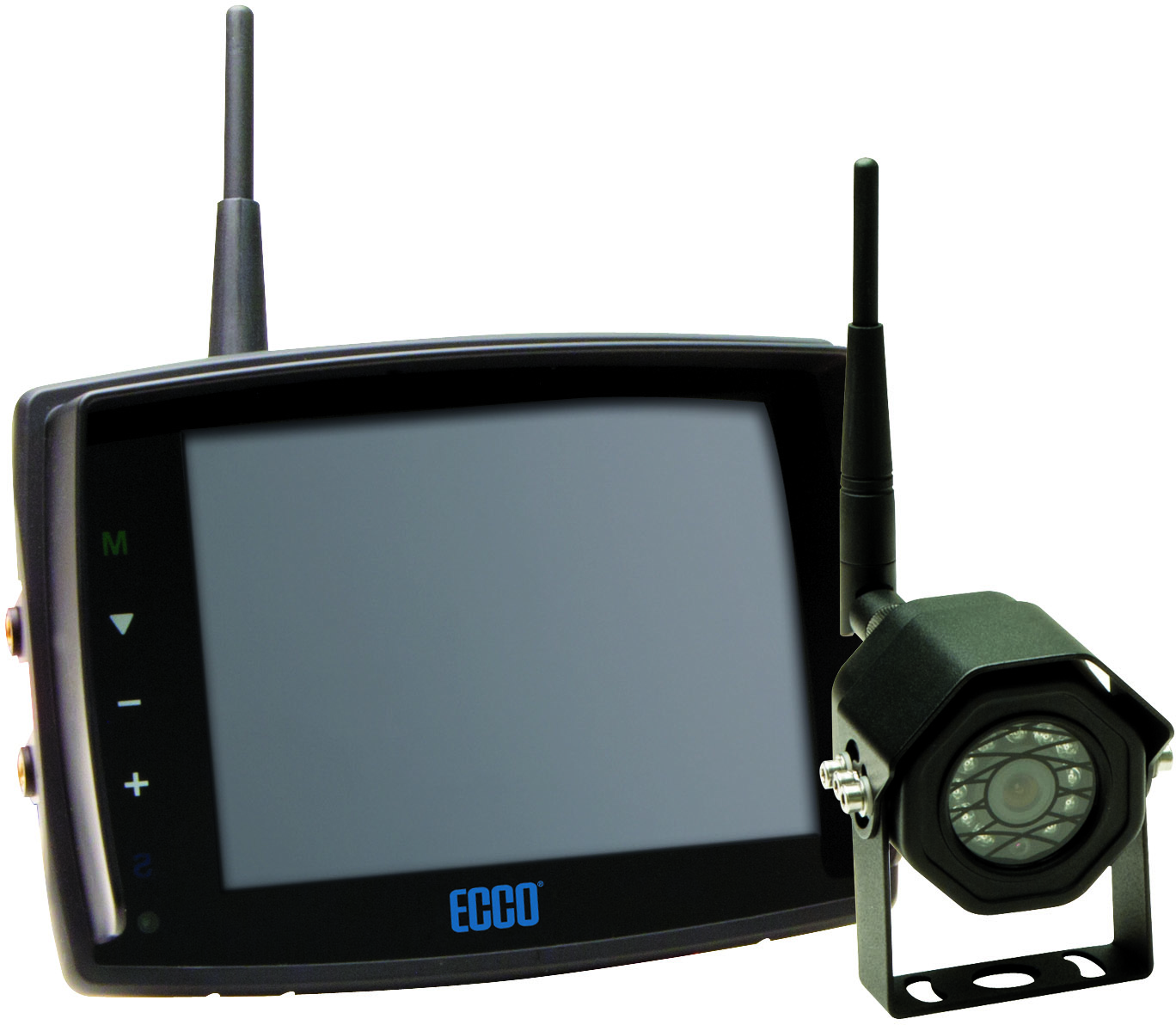 Click for:

ECCO wireless camera system utilises ECCO's unique monitor and camera design. Comprising a feature-packed 5.6" LCD high-resolution touch screen colour monitor and CMOS colour infrared camera, the EC5605-WK delivers excellent picture quality even in low-light conditions. The compact monitor allows for unobtrusive installation without compromising viewable screen area. This colour wireless system is expandable up to 4 cameras.
ECCO EC5605-WK LCD Colour Wireless System Features & Benefits  ▲
2.4 GHz digital wireless system
Touchscreen menu control
Internal controller
CMOS infrared 11 LED camera
Includes monitor sunshade
Includes anti-glare screen protector
Four camera expandable
One year warranty
ECCO EC5605-WK LCD Colour Wireless System Specifications  ▲
Monitor Specifications – (Model: EC5605-WM)
5.6" colour monitor featuring audio, day/night light sensor, remote control and sunshade. Expandable up to four cameras. 12-24 VDC operation with R10, E13, FCC, CE, RoHS, and C-Tick approvals.

Product
5.6" Digital TFT - LCE Color,
2.4 GHz Wireless
Colour
Yes
Voltage
12-24V
Power Consumption
5W
Draw
0.42A @ 12V DC
Resolution
800 x 3 (RGB) x 480
Contrast
20.8340277778
Brightness
400cd/m2
Operation Freq.
2400-2483.5MHz
Receiving Sensitivity
-78dBm
Video Codec
MPEG4
RF Band Width
5MHz
Frame Rate
NTSC: 30f/s
PAL: 25f/s
Output Power
18dbM
Spread Spectrum
FHSS
Hopping Rate
1200/S
Delay
200ms
RF Bit Rate
6Mbps
Audio Output
1.5W
Speaker
Yes
Day / night light sensor
Yes
Mirror image
Yes
Remote control
Yes
Sunshade
Yes
Max cameras
4
Operating Temperature
-20°C to +70°C
Rating
ECE R10, E13, FCC, CE,
RoHS, C-TICK
Dimensions (W, H, D)
6.32" (160.5mm) x 4.51" (114.6mm) x 1.06" (27mm)
Weight
2.87 lbs (1.3 kg)
Camera Specifications – (Model: EC2014-WC)
Includes a day/night sensor, microphone, and 11 infrared LEDs. Features 12-24 VDC operation with a 10G mechanical vibration rating and IP69K, R10, FCC, CE, RoHS, and C-Tick approvals.

Image Device
1/3" CMOS
Ingress Protection
IP69K
Night Vision
11 IR LEDs, Max 10M Distance
TV System
NTSC / PAL
Effective Pixels
728 x 488
Sensing Area
4.6228mm x 3.6112mm
Sync. System
Internal
Horizontal Resolution
500TV Lines
Mini. Illumination
-0LUX / F2.0
Video Output
1.0VP-P, 750OHM
S/N Ratio
Better Than 48dB
White Balance
Auto
Electronic Shutter
NTSC: 1/60 ~ 1/100K seconds
PAL: 1/50 ~ 1/100K seconds
Power Consumption
0.25W
Temperature
--28.88°C to +70°C
Lens
f-2.8mm / F=2.0, 120°
Voltage
12-24V
Microphone
Yes
Day / night light sensor
Yes
Mechanical vibration
10G
Rating
IP69K, ECE R10, FCC,
CE, RoHS, C-Tick
Dimensions (W, H, D)
2.87" (72.9mm) x 2.99" (75.95mm) x 2.98" (75.7mm)
Weight
0.89 lbs (0.4 kg)
ECCO EC5605-WK LCD Colour Wireless System Specifications Flyer (PDF)  ▲
---
Applications: On-road applications, long-haul trucks, light trucks, utility vehicles, delivery trucks, garbage trucks
ECCO EC5605-WK LCD Colour Wireless System Parts Enquiry ▲