Brand: ECCO
Origin: USA
---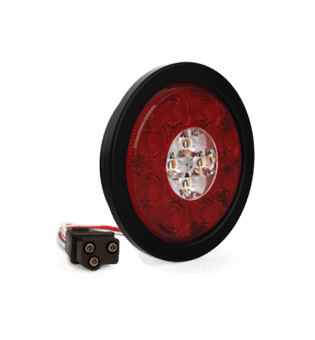 Click for:

Stop-Tail-Turn-Reverse and Warning Light Combo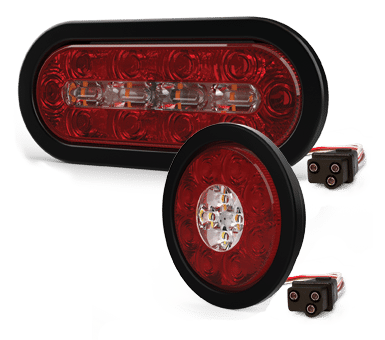 The back of service vehicles and trailers must have maximum visibility for ongoing safety both on and off the road and worksite. Usually this is done with a myriad of lights – meaning cutting additional holes in the panels. Did you know there is a better way!
Introducing one of the most versatile multifunctional LED tail lights on the market. The ECCO ED3040 4 inch round and the ED3060 6 inch oval covers the most common size you will find for easy retrofit and install on service vehicles and trailers.
These multifunction tail lights feature a number of lights in the one fixture, including; stop-tail-turn lights; steady-burn red and white override lights for reverse or flood light; and a dual-colour directional warning light with 69 flash patterns. Features 12-24V DC multivolt, SAE Class I compliance, and IP67 and IP69K protection.
Installation is a breeze with a female PL3 or AMP connector and grommet mount or a flange mount option for antitheft capabilities. This light is perfectly ideal for: work trucks, utilities and service vehicles in municipalities and some heavy equipment in mining and construction. Comes with a 5 year no-hassle warranty for peace of mind.
ECCO ED3040 / ED3060 Combo Warning Light Features & Benefits  ▲
High output LEDs offer low maintenance, long life and low current consumption
Ultrasonically sealed housing
Grommet mount included to fit in standard 4" rounded or 6" oval tail light applications
Flange mount available with optional accessories
Vibration and shock resistant construction
Connector for Ground, Stop/Turn, Tail
ECCO ED3040 / ED3060 Combo Warning Light Specifications  ▲
Voltage
12-24V DC
Shape
4" inch (Round LED) (ED3040AW, ED3040AW-AMP3S)
6" inch (Oval LED) (ED3060AW, ED3060AW-AMP3S)
Colour
Red LED
Flash Patterns
69
Connector
PL3 (ED3040AW, ED3060AW)
AMP (ED3040AW-AMP3S, ED3060AW-AMP3S)
Lens
Clear Center: Reverse/Warning
Red Perimeter: Stop-Turn-Tail
Temperature Range
-22°F to +122°F (-30°C to +50°C)
Standards Compliances
SAE Class I, DOT, CA T13, R10, IP67, ROHS
Warranty
5 Years
ECCO ED3040 / ED3060 Combo Warning Light Specifications Flyer (PDF)  ▲
---
Applications: Fleet vehicles and trucks