Brand: J.W. Speaker
Origin: USA
---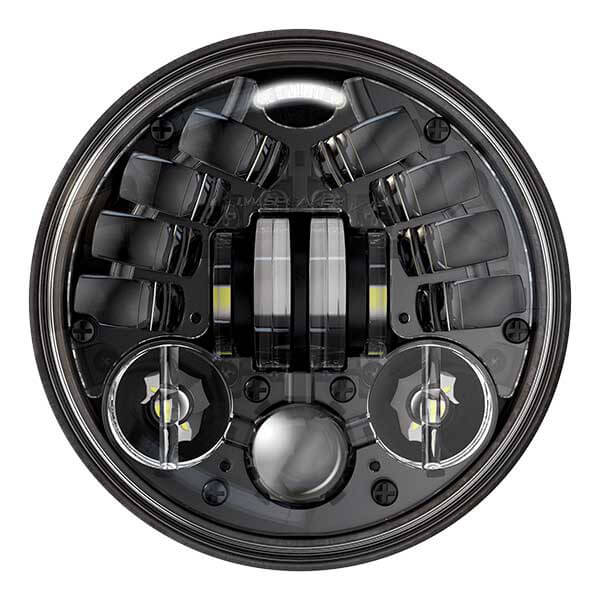 Click for:

Motorcycle retrofit upgrade for PAR46 (5.75″ round) headlights
The Model 8690 M Series by JW Speaker is the perfect balance between form and function, offering an innovative retrofit LED upgrade for ANY motorcycle with a 5.75″ headlight.
This headlight is the first to utilise Speaker's state-of-the-art ComfortLite™ high beam as well as low beam, providing added illumination above the horizon with a powerful punch of light down the road. The proprietary solid optics offer enhanced visibility to both riders and other drivers, for a new level of rider comfort.
It's unique design includes a heavy-duty, die-cast aluminium housing, state-of-the-art LEDs, and sleek design that not only delivers premium performance, but also gives a bike a truly unique look!
J.W. Speaker 8690 M Series (LED Motorcycle Headlight) ​Features & Benefits ▲
Solid optics and powerful LEDs produce 60,000 candela (1,600 effective lumens) of bright, white light.
Enhanced visibility using Speaker's ComfortLite high beam, delivering a more powerful punch down the road and additional light above the horizon.
The best-performing plug & play upgrade for 5.75″ (PAR46) sealed beam motorcycle headlights in the aftermarket.
Heavy-duty, die-cast aluminium housing and state-of-the-art LEDs provide rugged durability.
New patented design offers a one-of-a-kind look, featuring ComfortLite™ optics for both high and low beam for the first time.
Engineered to be dual-compliant (DOT & ECE), the Model 8690 M Series is 100% street legal anywhere in the world.
Speaker model number: Model 8690 M
Speaker part numbers: 0551681 (Black Bezel), 0551731 (Chrome Bezel)
J.W. Speaker 8690 M Series (LED Motorcycle Headlight) Specifications ▲
Light source
LEDs
eLumens
1,600 Lu (High beam)
1,050 Lu (Low beam)
rLumens
3,520 Lu (High beam)
2,120 Lu (Low beam)
Colour Temperature
5000K
Beam Pattern
Forward Lighting - High beam (DOT/ECE)
Forward Lighting - Low beam (DOT/ECE)
Forward Lighting - Signalisation
Current Draw
3.2A @ 12V (High beam)
1.9A @ 12V (Low beam)
0.21A @ 12V (Front position)
Voltage
12V DC
Operating Temperature
-40°C to +65°C
Retrofits
PAR46 Headlights
Lens
Polycarbonate
Lens Colour
Clear
Electrical Connection
H4, AMP#172615-2
IP Rating
IP67
Weight
1.80 (lbs) / 0.82 (kgs)
Dimensions (DxWxH)
3.25x5.65x5.65" (82.6x143.5x143.5mm)
J.W. Speaker 8690 M Series (LED Motorcycle Headlight) ​Specification Flyer (PDF) ▲
Fitment Kits
Make and Model: BMW R nineT Fitment Kit  Part No: 0703571  Description: Headlight Fitment Kit MK1060-0001
Find the perfect fitment kit for your motorcycle here: JW Speaker – The Motorcycle Garage
---
Applications: Motorcycles
---
Dimensions:
Width: 5.65" (143.5 mm), Height: 5.65" (143.5 mm), Depth: 3.25" (82.6 mm), Dia: 5.65" (143.5 mm)
J.W. Speaker 8690 M Series (LED Motorcycle Headlight) Parts Enquiry ▲