Brand: J.W. Speaker
Origin: USA
---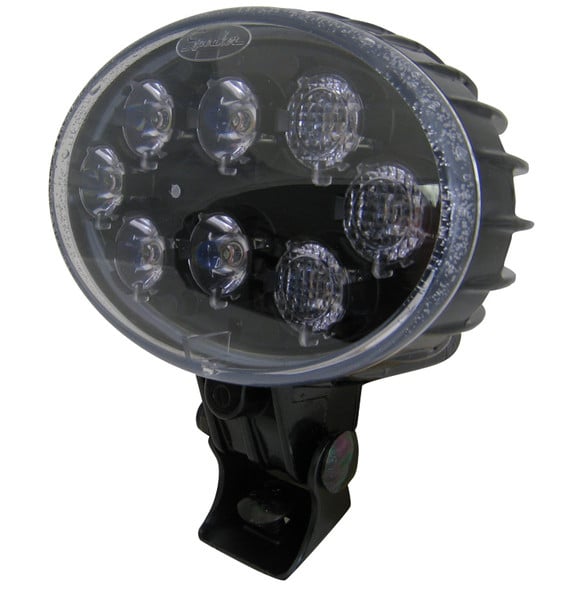 Click for:

LED Work Lamp also meets ECE turn signal specifications
12-48V LED Work Lamp (Gen III) with Amber Flashing Warning Function
Designed for forklift trucks that must meet ECE turn signal regulations, the model A704 / A705 LED combination work lamp and turn signal is a compact lamp perfect for material handling applications. Select either right-hand or left-hand lamps for proper location of the flashing/warning signal. Made from rugged and durable aluminum die cast, this sealed lamp will provide years of trouble-free service for you vehicle.
J.W. Speaker A704 / A705 12-48V GenIII LED Combination Lamp Specifications  ▲
rLumens
500Lu
eLumens
400Lu
Voltage
12-48V
Wattage
15W
Configuration
Model A704: RH and LH Horizontal Configuration
Model A705: Vertical Configuration
Width
Model A704: 5.68in (144.17mm)
Model A705: 3.92in (99.7mm)
Height
Model A704: 5.85in (148.54mm)
Model A705: 7.58in (192.6mm)
Depth
Model A704: 3.52in (89.4mm)
Model A705: 3.52in (89.4mm)
Mount
Fully adjustable with 5/16″ mounting bolt
Connector
Built in Deutsch DT06-2 2-pin connector
Current Draw
1.2A @ 12V; 2.0A @ 12V
Standards
ECE Reg. 6 Turn Signal, Sealed to IP67
---
Applications: Material Handling, Agriculture, Construction, Industrial Equipment & Specialty Trucks
---
Dimensions:
Width: 5.68" (144.17 mm), Height: 5.85" (148.54 mm), Depth: 3.52" (89.4 mm)
J.W. Speaker A704 / A705 12-48V GenIII LED Combination Lamp Parts Enquiry ▲