Brand: True North Gear
Origin: USA
---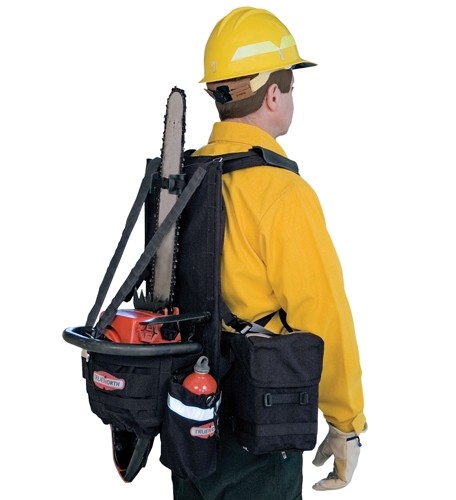 Click for:

A heavy duty custom designed pack specifically manufactured for the carriage of chainsaws. The pack incorporates load-trapping suspension that provides for comfort while carrying a chainsaw to and from the fireground, regardless of the difficulty of the terrain. The unique design aligns and holds the saw next to the body's centre of gravity, which prevents bouncing and swing when moving over rough or heavily wooded ground.
Load and unload a saw in seconds. Drop the powerhead into the carrier, attach the bar with one buckle and go. The pack comes with three drawstring pockets for fuel, water, and other essentials. In addition, there is a Next Generation fire shelter case; and an axe scabbard. The modular design allows for the pouches to be positioned anywhere along the belt or back of the saw carrier.
Other features include a dual-density foam waist belt and harness, and a leather shoulder pad to protect he harness when carrying the saw on the shoulder. The pack is suitable for chainsaws models with wrap around handle bars, as well as top and side handle bars.
True North Chainsaw Pack Features & Benefits ▲
Made from 1000D Cordura Nylon Webbing, Leather, Reflective Tape and Nylon Hardware.
SCS suspension system.
Sizes in small or standard (Hip Belt and Harness).
Weight – 2.5kg or 5.5 lbs
3 x drawstring pockets for fuel, water, and other essentials.
Fire shelter case attaches to belt with ALICE clips.
Axe scabbard.
Options for a day pack.
Colour Black
---
Applications: Suitable for chainsaws with wrap around handle bars as well as top and side handle bars that need to be carried on and off the fireground, over all types of difficult terrain that restrict vehicle movement.
True North Chainsaw Pack Parts Enquiry ▲
Usually ships:
1-5D
Sell Qty:
EA
Ship Weight:
5.5 lbs (2.4 kg)
Catalog page:
NEW