Brand: Vision X
Origin: USA
---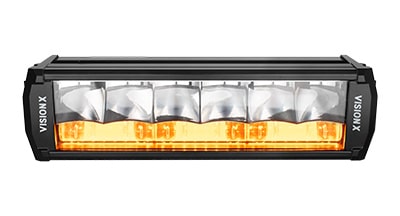 Click for:

Vision X Shocker Dual Action LED Light Bar
The Shocker Dual Action LED Light Bar brings versatility and lighting power to the forefront by allowing you to adjust your vision ti the ever-changing driving conditions with the flick of a switch. Experience the all new VRT (Vector Reflector Technology) at night speeds to shine long distance with a wide driving beam that also fans across the trail.
When dust and fog tries to slow you down, engage the Amber PLC (Photon Light Core Technology) to penetrate the night by reducing shadows and white-out by using the proper Amber lighting colour and wide-elliptical shaped beam.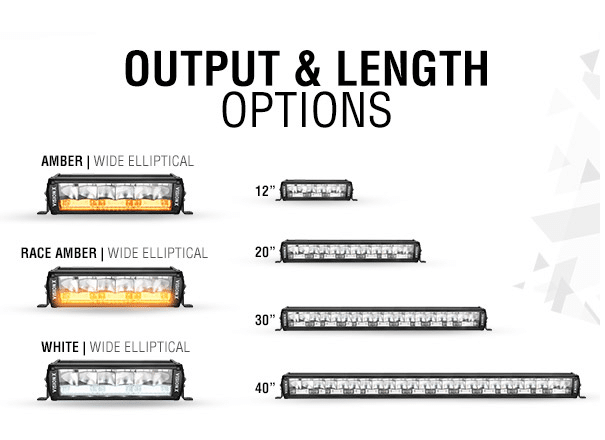 Vision X Shocker LED Light Bar Features & Benefits  ▲
Dual Function Lighting Technology
New Vector Reflector and Photon Light Core technology for dual function lighting
Race-inspired Side Mounts
The Shocker come with heavy duty Race-Ready side mounts that are built to outlive any abuse
High Output CREE LEDS
Vision X Shocker LED Light Bar Videos  ▲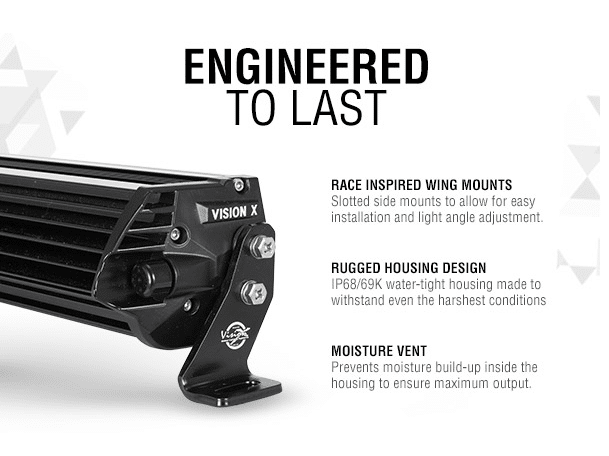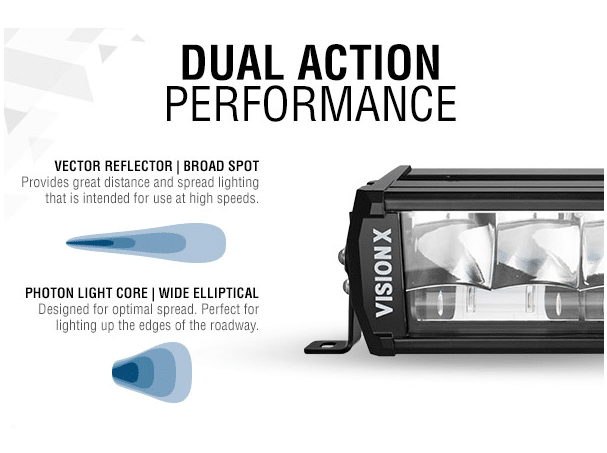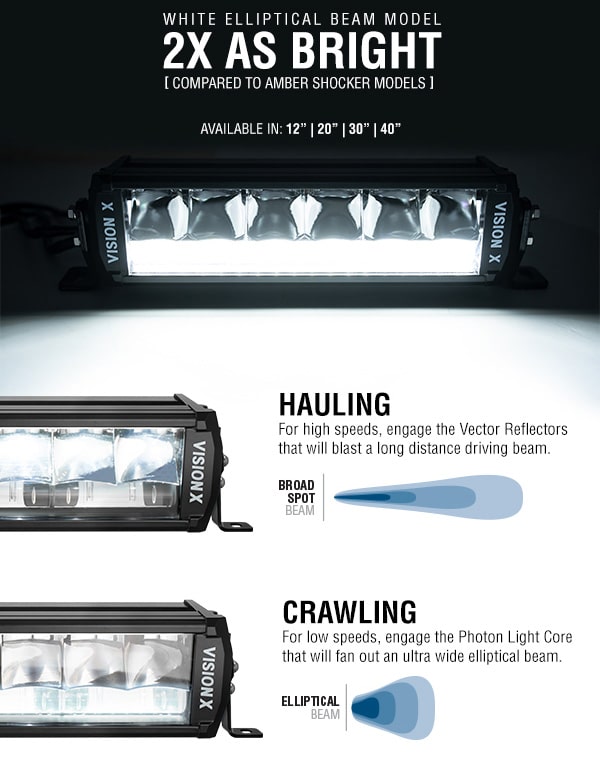 Vision X Shocker LED Light Bar Specifications  ▲
Voltage
12V DC
rLumens
(Vector Reflector, White)
6,420 Lu (SHK-BV6WPA, SHK-BV6WPW, SHK-BV6WRA),
12,840 Lu (SHK-BV12WPA, SHK-BV12WPW, SHK-BV12WRA),
19,260 Lu (SHK-BV18WPA, SHK-BV18WPW, SHK-BV18WRA),
25,680 Lu (SHK-BV24WPA, SHK-BV24WPW, SHK-BV24WRA)
rLumens
(Photon Core, White)
6,945 Lu (SHK-BV6WPW), 13,890 Lu (SHK-BV12WPW),
20,835 Lu (SHK-BV18WPW), 27,780 Lu (SHK-BV24WPW)
rLumens
(Photon Core, Amber)
3,026 Lu (SHK-BV6WRA), 3,550 Lu (SHK-BV6WPA),
6,050 Lu (SHK-BV12WRA), 7,100 Lu (SHK-BV12WPA),
9,075 Lu (SHK-BV18WRA), 10,650 Lu (SHK-BV18WPA),
12,100 Lu (SHK-BV24WRA), 14,200 Lu (SHK-BV24WPA)
Beam Pattern
Vector Reflector, White (Broad Spot),
Photon Light Core, White (Wide Elliptical),
Photon Light Core, Amber (Wide Elliptical)
Watts, Amps, Model (White)
60W 5A @ 12V DC (SHK-BV6WPA, White),
60W 5A @ 12V DC (SHK-BV6WPW, White),
100W 8.3A @ 12V DC (SHK-BV6WPW, White),
60W 5A @ 12V DC (SHK-BV6WRA, White),
125W 10.42A @ 12V DC (SHK-BV12WPA, White),
125W 10.42A @ 12V DC (SHK-BV12WPW, White),
200W 16.67A @ 12V DC (SHK-BV12WPW, White),
125W 10.42A @ 12V DC (SHK-BV12WRA, White),
200W 16.67A @ 12V DC (SHK-BV12WRA, White),
195W 16.25A @ 12V DC (SHK-BV18WPA, White),
195W 16.25A @ 12V DC (SHK-BV18WPW, White),
300W 25A @ 12V DC (SHK-BV18WPW, White),
195W 16.25A @ 12V DC (SHK-BV18WRA, White),
250W 20.83A @ 12V DC (SHK-BV24WPA, White),
250W 20.83A @ 12V DC (SHK-BV24WPW, White),
380W 31.67A @ 12V DC (SHK-BV24WPW, White),
250W 20.83A @ 12V DC (SHK-BV24WRA, White),
Watts, Amps, Model (Amber)
70W 5.8A @ 12V DC (SHK-BV6WPA, Amber),
100W 8.3A @ 12V DC (SHK-BV6WRA, Amber),
140W 11.67A @ 12V DC (SHK-BV12WPA, Amber),
220W 18.33A @ 12V DC (SHK-BV18WPA, Amber),
300W 25A @ 12V DC (SHK-BV18WRA, Amber),
300W 25A @ 12V DC (SHK-BV24WPA, Amber),
380W 31.67A @ 12V DC (SHK-BV24WRA, Amber)
Vision X Shocker LED Light Bar Specifications Flyer (PDF)  ▲
---
Applications: Mining Light Vehicles (LV's), Service Vehicles, Automotive, Off-road, 4x4, 4WDs
---
Dimensions:
Width: 11.97" (304 mm), Height: 3.82" (97 mm), Depth: 3.27" (83 mm)