When you decide to get a Vehicle Safety Optimisation Plan (VSOP) from APS, you can trust you are investing in the future with heavy equipment and automotive safety products based on your project requirements. APS is committed to providing vehicle safety solutions that meet your responsibilities and on-site specifications.
APS offers vehicle safety solutions for all fleet sizes and vehicle types. Our VSOP involves APS experts working closely with clients to determine complete fleet safety solutions that meet individual needs and budgets. APS has a wide range of products, including Passive and Active safety solutions.
As part of our VSOP, we can provide:
fit for purpose vehicles, which allow greater control over safety
solutions that seek to minimise costs related to injury and assets
safety solutions tailored to user needs and budgets

So what is the key to these solutions?
Enhancing Situational Awareness at both the operator and bystander level by utilising audible, visual and radar (close proximity) equipment.
APS has industry-leading products in terms of technology, quality, durability and functionality, as well as access to an experienced global sourcing network with offices in North America and Australia.
Contact your APS Sales Manager to organise a site visit now.
The VSOP Stages
Site Visit
Our trained experts will visit your site to assess your fleet requirements and objectives. Once we discuss any collision, accident or damage scenarios, we will be able to provide the best solutions for your specific site.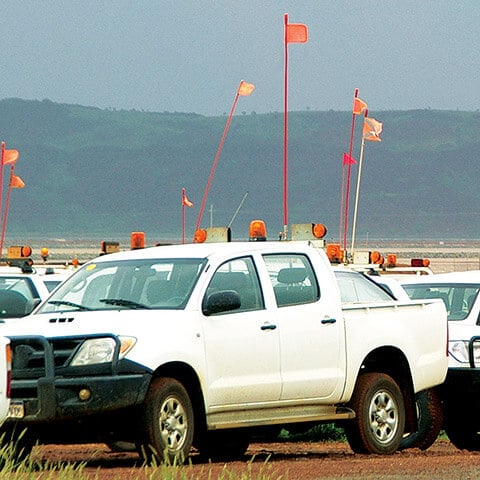 Development of Proposal
Based on the initial site visit, we can determine the best way of mitigating safety risks. We can provide you with anything from a simple quote, to specifications on upgrading your current passive safety systems, to even more complex integrated radar solutions.
While integrated solutions provide an added level of control, they are not a substitute for proper operator training or the sole solution for all safety situations.
Site Visit
A second site visit allows us to present the VSOP and demonstrate particular features, specifically any close proximity radar systems. Our managers are equipped with kits and calibration tools that allow them to demonstrate how the system works prior to any client decision or purchase.
This not only highlights exactly what the system can do and can't do, but also ensures you are completely satisfied with the proposed solutions.
Installation
Depending on client requirements and site protocols, APS, Customer Site Technicians, or agreed and trained installation contractors will handle the installation. Even if you would prefer to use your own team for the installation, APS is still very much involved in the preliminary training, installation and calibration to ensure everything runs smoothly.
Ongoing Maintenance and Training Plan
APS establishes operational protocols to ensure your new system operates exactly as intended, along with reviews of ongoing installations and end-user feedback.
This can include visits to undertake site-specific training, which continues to keep end-users committed to using the VSOP system installed. The key to success for any VSOP implemented by APS resides in training the operators and administering regularly scheduled performance evaluations. This involves regular testing and verification of detection zones and safety critical features of the VSOP.