The XPR LR Series LED light bar from Vision X, provides a lighting solution for trucks, 4WDs, ATV's, UTV's and any other application that requires long distance projection.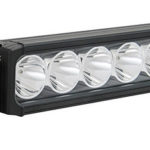 Powered by the latest 10W LEDs with IRIS reflector technology gives optimal distance comparable to HID with all the benefits of LED.
The XPR LR Series comes in a multitude of lengths including: 11.5" (21cm), 24" (61cm), 29.4" (75cm), 34.7" (88cm), 40" (102cm), 45.3" (115cm) and 50.6" (128cm). It also comes with dual mounting options, which includes end-cap mounting and patented mounting feet.
Click here to learn more about this product.