Introducing ECCO's new wireless reversing camera system. Featuring quality and functionality equal to wired systems, the EC5605-WK wireless reversing camera system dramatically decreases installation complexity and expense.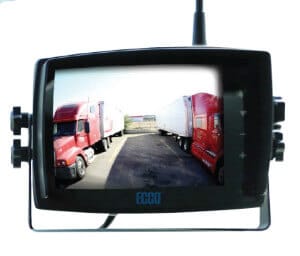 So don't be the last in the business wasting time, energy and money hardwiring reversing camera systems. Utilising ECCO's unique monitor and camera design, the EC5605-WK comprises a feature-packed 5.6" LCD high-resolution touchscreen colour monitor and CMOS colour infrared camera, delivering excellent picture quality even in low-light conditions. The compact monitor with choice of two mounting brackets allows for easy and unobtrusive installation without compromising viewable screen area. System is expandable up to four cameras.
Click here to learn more about this product.