Brand: ECCO
Origin: USA
---
APS is pleased to announce the addition of the 5550 Series Reflex® LED microbars in a new, dual-color option. This includes: Clear Lens with Amber/Blue Illumination, Clear Lens with Amber/Green Illumination, and Clear Lens with Amber/Red Illumination.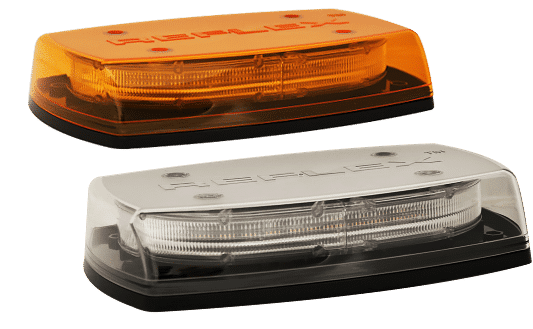 Click for:

These Reflex™ LED minibars provide a super-compact yet powerful warning solution that offers the flexibility of either permanent or vacuum-magnet mounting.
The new Ecco 11" Reflex LED Minibars are the latest edition to the Reflex Minibar Series. They represent more than 25% reduction in size from the standard 15" / 381mm Minibars yet provide an output that still meets Class I & Class II specifications.  Perfect where you need a low profile beacon with the benefits of high aerodynamics and low wind noise, and with the lighting punch of a standard minibar.  These minibars fit well on custom lighting bars and are built rugged for your industrial applications. 
Featuring 12-24 VDC operation, these minibars use high-intensity LEDs to maximise light output. Users can select from 18 flash patterns, either via trigger wire on permanent mount models or cigarette plug switch on vacuum-magnet models.
The 5550 Series minibar is a SAE J845 Class 1 fixture, whilst the 5545 Series minibar is a SAE J845 Class 2 fixture.
ECCO 5545 / 5550 Reflex Series 11″ LED Microbar Features & Benefits  ▲
12-24V DC
IP67 ingress protection rating
Available in Amber LED / Amber Lens or Amber LED / Clear Lens models

Clear Lens with Amber/Blue Illumination, Clear Lens with Amber/Green Illumination, and Clear Lens with Amber/Red Illumination

Permanent Mount or Magnetic with Cigarette Plug
Four LED reflector modules, each containing six LEDs provide high intensity light output
5550 Series features 12 LEDs per module, 48 total (SAE J845 Class 1)
5545 Series features 6 LEDs per module, 24 total (SAE J845 Class 2)
Choice of 18 flash patterns
Cigarette plug with on/off and flash pattern selection switch (vacuum-magnet)
Temperature Range: -22°F to +122°F (-30°C to +50°C)
Warranty: 3 years
ECCO 5545 / 5550 Reflex Series 11″ LED Microbar Videos  ▲
ECCO 5545 / 5550 Reflex Series 11″ LED Microbar Specifications  ▲
Type
LEDs
Light Source
12 LEDs per module, 48 total (5550 Series)
6 LEDs per module, 24 total (5545 Series)
LED Colours
Amber, Amber/Clear,

Amber/Blue, Amber/Green, Amber/Red

Dome Colours
Amber, Clear
Flash Patterns
18 flash patterns
(5550 Series syncable with existing Reflex minibars)
Input Voltage
12-24V DC multi
Current Draw
2.7A @ 12V DC (5550 Series)
0.7A @ 12V DC (5545 Series)
Approvals
SAE J845 Class 1 (5550 Series)
SAE J845 Class 2 (5545 Series)
CE
R10
Housing
Polycarbonate base & low profile lens
Mount
Permanent (bolt base), Vacuum-Magnet
Operating Temperature
-22°F to +122°F (-30°C to +50°C)
Connector or Wiring
Trigger wire (Permanent Mount)
Cigarette plug switch (Vacuum-Magnet)
Length
11" (279.4mm)
Weight
TBA
ECCO 5545 / 5550 Reflex Series 11″ LED Microbar Specifications Flyer (PDF)  ▲
---
Applications: Construction, traffic management, emergency, mining, road works