Brand: Federal Signal Corporation
Origin: USA
---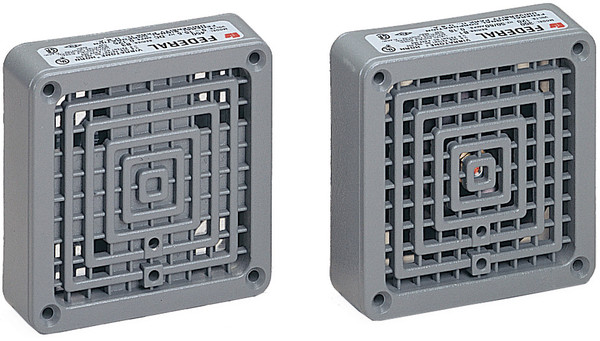 Click for:

The Models 350 and 450 Vibratone® Horns produce a very loud horn tone by the electro–mechanical vibration of a diaphragm. These horns are capable of reproducing coded blasts or sustained tones through the use of a number of control devices from a push button to a PLC. Federal Signal's Vibratone horns are excellent for general alarm, start and dismissal, coded paging, and process control signaling in areas of high ambient noise levels. The Vibratone Model 350 is available in AC voltages; 12VAC, 24VAC, 120VAC and 240VAC. The Model 350 produces 100dBa @ 10 feet, except the 12VAC model, which produces 94dBa @ 10 feet.
The Model 450 is available in DC voltages; 12VDC, 24VDC, 125VDC and 250VDC. The Model 450 produces 99dBa @ 10 feet.
Vibratone mounting options provide for surface, flush or semi–flush mounting on walls, panels, in cabinets, on 4–inch square outlet boxes, or in concrete and deep wall constructions. Installed on the front of a Vibratone Horn, the optional Model PR Projector or Model PR2 Double Projector direct sound output straight ahead or to the sides, optimizing sound output for long, narrow rooms or corridors.
Vibratone horns are UL and cUL Listed, CSA Certified and FM Approved. They are designed and approved for use in Type 4X applications when installed with the Panel Mount Gasket Kit or Weatherproof Backbox (Model WB). They are approved for Type 4X and Type 12 applications when installed with the Surface Mount Trim Ring (Model TR). Each Vibratone horn is enclosed in a zinc die–cast housing and sealed with grey powder–coat paint. The Model 350 features a stainless steel diaphragm. The Model 450 utilizes an aluminum allow diaphragm and heavy duty contacts. The rugged construction of the Vibratone horns resists vandalism and the effects of harsh industrial environments. Compact size, loud output and heavy–duty construction make the Vibratone horns ideal for industrial and institutional signaling applications.
Federal Signal 350 and 450 Vibratone® Horn Features & Benefits  ▲
Range of up to 200 feet
Coded or sustained tones
12, 24, 120 and 240VAC
Produces 100dBa @ 10′
Type 4X when installed with Panel Mount Gasket Kit or Weatherproof Backbox (Model WB); Type 4X and Type 12 when installed with Surface Mount Trim Ring (Model TR)
UL and cUL Listed, CSA Certified, and FM Approved
Federal Signal 350 and 450 Vibratone® Horn Parts Enquiry ▲