Brand: Golight
Origin: USA
---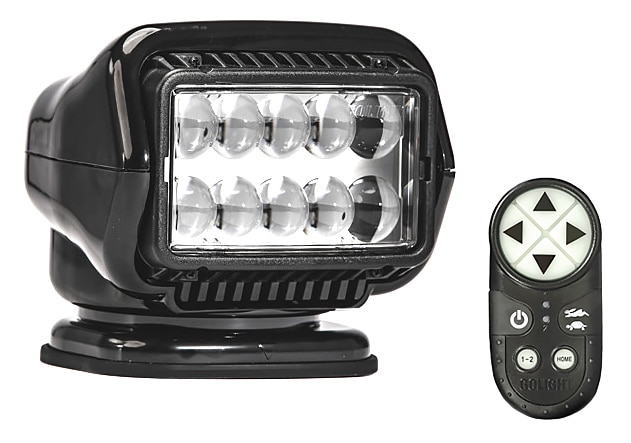 Click for:

The Stryker ST's newly designed remote-control unit is as simple to operate as it is intelligent. Large buttons are easy to access even with gloved hands, and fluorescent iconography makes the controller buttons legible in dark or low-light conditions. Now powered by two regular AAA batteries, the controller is more convenient to maintain than ever. The new Stryker ST lets users pan and tilt simultaneously. It also comes with a unit selector function that enables a user to operate two Stryker STs individually or in synchronisation, using a single remote-control transmitter.
These new functions promote versatility, convenience and simplicity and reduce the number of remote controls that a vehicle must carry. The Stryker ST comes standard with 12-volt electrical system compatibility and is available with 24-volt compatibility. The lamps come with either LED or halogen light sources. Both LED and halogen versions optimally focus their beam patterns at an 8-degree angle. The low-maintenance lamps come with a high-impact, UV ray-resistant and saltwater-resistant housing suitable for land and marine applications.
The LED Stryker ST lamp employs 10 high-flux LEDs, producing an industry-leading 544,000-candela beam projecting to a maximum distance of 1,475m (4,839 ft). The halogen Stryker ST lamp produces a 225,000-candela beam projecting to a maximum distance of 949m (3,113 ft). The Stryker ST is available in a permanent-mount model with a stainless-steel mounting bracket and a portable model with a magnetic base.
Golight Stryker LED ST Series Features & Benefits  ▲
32% Brighter LEDs – 544,000 Candela
Multiple Unit Selector Function a

llows for independent control of 2 units with 1 remote

Home Position Function
On-Command return to 0° home
Simultaneous Pan + Tilt
Multiple users can operate lights in close proximity without interference
Smart Programming Logic, quick and simple pairing without dipswitches
Flourescent Remote Buttons
Golight Stryker LED ST Series Videos  ▲
Golight Stryker LED ST Series Specifications  ▲
Type
10 high-flux LEDs
Beam
8° beam angle
Operation
2.5GHz
Housing
Polycarbonate plano-convex lens (P-Vex) (LED Model)
PentaBeam reflector design and tempered glass lens (Halogen Model)
Voltage
12V DC or 24V DC
Standards Compliance
High-impact, UV ray-resistant and saltwater-resistant housing suitable for land and marine applications
Wattage
40W
Current Draw
3.5A @ 12V DC
Max Beam Distance
1,475m (4,839 ft) (LED)
949m (3,113 ft) (Halogen)
Peak Beam Intensity
410,000 Candela (LED), 200,000 Candela (Halogen)
Mount
Permanent mount or portable magnetic base
Warranty
5 years
Colors Available
White, Chrome or Black
Golight Stryker LED ST Series Specifications Flyer (PDF)  ▲
---
Applications: Work and service vehicles, 4WD and recreational vehicles, military vehicles, emergency services, marine vessels