Brand: Phillips
Origin: USA
---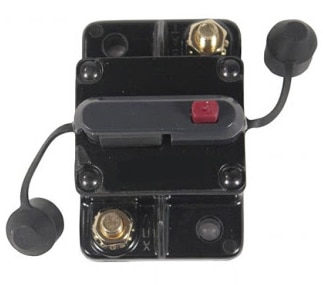 Click for:

Circuit breakers can generally take the place of a fuse, although it has the advantage of being able to be reset. They are often used in auxiliary and accessory circuits in heavy vehicles, machinery, trucks, buses, RV and marine systems.
This 200A high-capacity DC circuit breaker by Phillips Industries is rated to 30V DC with a 3000A interrupt capacity. This model is SAE J1625 compliant, and can easily be panel or surface mounted. It features a red manual trip button (or test) button and a black reset lever. With the housing made of thermoset plastic whilst being water resistant makes it ideal to be used with dual battery systems under vehicle bonnets.
It is suitable for industries and applications that require high amperage circuit breaking protection such as mining and construction vehicles and machinery, refuse and fleet trucks, etc. It is also suitable in applications where what is being connected could have a short circuit or a momentary short where a manual reset is required.
Phillips 200A High Capacity Circuit Breaker Features & Benefits ▲
Water resistant
Panel or surface mounted
Made of thermoset plastic
Rated to 30 VDC, 3000A interrupt capacity
Complies with SAE J1625
Two 6mm bolts with nuts to attach cables
Includes terminal covers
Phillips 200A High Capacity Circuit Breaker Specifications Flyer (PDF) ▲
---
Applications: Mining and construction vehicles and machinery, fleet and long-haul trucks, refuse trucks, boats
Phillips 200A High Capacity Circuit Breaker Parts Enquiry ▲