Brand: Vision X
Origin: USA
---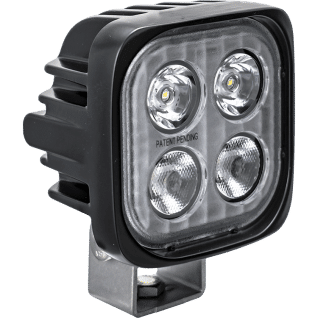 Click for:

The Vision X Dura Mini M4M is a powerful answer to a small driving/fog light. The sleek and compact 2.75" housing coupled with four 5 Watt LEDs pushes 2,115 lumens of light, making it one of the brightest lights in it's class. Featuring a combination beam with 10° and 25° optics, the Duralux Mini M4M provides powerful centre lighting, with a smooth flood illumination. This efficient light only draws 1.67A, making it an ideal option for ATV / UTV applications where low power consumption is important.
Universal Automotive Lighting
The Duralux Automotive Series was designed with vehicles in mind. The sleek and compact housing coupled with four 5W LEDs makes it the perfect light for any automotive application. From fog lights to roof rack and reverse lighting the Duralux Automotive Series combines usability with afford-ability to create the ultimate lighting solution for any vehicle. The Duralux Automotive Series lights comes standard with a single bolt mounting bracket, wiring harness, and lifetime warranty.
Simple Mounting 
The shape, construction, and mounting location of the Duralux Automotive Series means it can be placed almost anywhere.
Combo Driving Beam Pattern
Featuring a combination beam with 10° and 25° optics, the Vision X Dura Mini M4M Driving/Fog Light provides powerful centre lighting concentration, while shining smooth flood illumination.
Vision X Dura Mini M4M Driving/Fog Light Features & Benefits  ▲
Ultimate Compact Fixture for Universal Applications
10°x25° Beam Pattern (10° Top, 25° Bottom)
Very Low Amp Draw
Ultra Bright 5W LEDs
Universal Single Bolt Mounting
Vision X Dura Mini M4M Driving/Fog Light Videos  ▲
Vision X Dura Mini M4M Driving/Fog Light Specifications  ▲
| | |
| --- | --- |
| Beam | 10°x25° (10° Top, 25° Bottom) |
| rLumens | 2,115 rLumens |
| eLumens | 1,480 eLumens |
| Voltage | 9-32V DC |
| Wattage | 20W |
| Amp Draw | 1.67A @ 12V DC |
| Type | 4 x 5W LEDs |
| IP Rating | IP69K |
| Warranty | 3 Years / Ext. |
Vision X Dura Mini M4M Driving/Fog Light Specifications Flyer (PDF)  ▲
Part Numbers
DURA-M4M – 9911649 – 10°x25°
DURA-M4MKIT – 9911656 – 10°x25°
---
Applications: Construction, mining, light vehicles, 4WDs, automotive, ATV / UTV applications, recreation vehicles, driving lights, fog lights
---
Dimensions:
Width: 2.75" (69.85 mm), Height: 3.62" (91.95 mm), Depth: 1.94" (49.28 mm)
Vision X Dura Mini M4M Driving/Fog Light Parts Enquiry ▲