J.W. Speaker is proud to announce the latest addition to our extensive lineup of LED headlights. Dubbed the Model 90, these dedicated high beam and low beam 90mm projector headlights provide superior performance and lower maintenance costs compared to other 90mm headlights on the market today.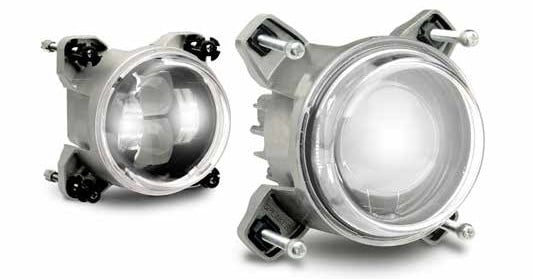 Perfect for agricultural, bus & coach, construction & mining, military, specialty vehicle and transportation applications, the Model 90 meets/exceeds on-road standards including FMVSS 108 (DOT), ECE, and ADR.
While there are a great many things that set the Model 90 apart, here's just a summary of why it provides you with the lowest total cost of ownership:
Superior Performance
The Model 90 "out-shines" (pun intended) the competition in several key areas of performance:
First and foremost, the Model 90 provides superior visibility. J.W. Speaker's optical engineers have applied the latest technologies to create an optimized beam pattern (see the birdseye views on the right) that minimizes glare and maximizes visibility.
The Model 90 produces a color temperature which promotes increased safety and helps to keep the driver more alert.
Lower Maintenance & Operational Costs
Starting from the moment you install them, Model 90 LED headlights are a great way to reduce your maintenance and operational costs:
Solid state LED technology means there's no breakable bulbs, fragile filaments, or sensitive electrodes like those found in traditional headlights. You'll never have to replace another bulb again, saving you significant time and money over the life of the vehicle.
Another great benefit of LEDs is their longevity. The Model 90 lasts 300+ times longer than incandescent, 50+ times longer than halogen, and 20+ times longer than HID!
From an efficiency perspective, LEDs (80+ Lumens per Watt) far out-perform traditional bulb-based technologies (10-30 Lumens per Watt). Installing the Model 90, therefore, helps to contribute to higher fuel efficiency and lower operating costs
Key Features & Benefits
Powerful LEDs & engineered optics provide bright, white, non-glare output for maximum visibility
The multi-voltage (12-24V DC) configuration means that the Model 90 suits a wide range of applications
Heavy duty die-cast housing and impact-resistant polycarbonate lens provide unmatched durability
This high quality, American made product comes with a lifetime limited warranty to bring you peace of mind
Configurations available to meet DOT, ECE, and ADR requirements for on-road applications
For more info Click here