Brand: ABL Lights
Origin: USA
---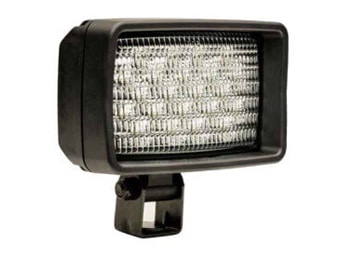 Click for:

This 12-24V DC multi-volt work light is the 15W version of the new LED-powered 1100 series work lamps by ABL Lights. This lamp features a shock rating of 60G, a vibration rating of 15Grms @ 24-2000Hz, and high ingress protection rating of IP68 and IP69K. These lights have been sold worldwide by the millions, providing optimal light and best value for money.
The ABL 1100 family has firmly established itself as a standard work light for demanding applications within industries such as construction, earthmoving, forestry, agricultural and materials handling.
The ABL 1100 LED1200 Compact is a direct replacement for the ABL 1100 Series 3 x 5″ halogen work lamp, which uses a single 55W or 70W H3 bulb.
ABL 1100 LED1200 Compact Specifications  ▲
Light source
22 LEDs
Colour Temperature
6000°K
eLumens (effective)
1200 Lu
rlumens (raw)
1750 Lu
Beam Pattern
Flood
Wattage
15W
Current Draw
0.625A @ 24V DC
Voltage
12-24V DC multi
Operating Temperature
-40°C to +85°C
Vibration Resistance
15Grms @ 24-2000Hz
Shock Resistance
60G
EMC
ISO 13766 - Earthmoving Equipment
ISO 14982 - Forestry/Agricultural
ISO 12985 - Handling Equipment
Load Dump
36V continuous / 58V 100 ms / 1800V 50 μs
Polarity
Protected against reverse voltage
Connection
Built-in DT 2 ways
Lens
Hardened glass
Reflector
Free form reflectors
Electronic Thermal Management
Full output @ +35°C ambiant
20% dimmed @ +50°C ambiant
IP Rating
IP68, IP69K
Salt Spray
ISO 9227
Mounting
Pedestal, suspended
Weight
1.98 (lbs) / 0.9 (kgs)
Dimensions (DxWxH)
2.79x6.18x3.74+" (71x157x95+mm)
ABL 1100 LED1200 Compact Specifications Flyer (PDF)  ▲

OEM parts cross reference numbers
Caterpillar
ABL 1130 Series 12V 55W Flood (1130-12F55): 105-8070, 205-9976, 242-3520, 242-3522
ABL 1130 Series 24V 70W Flood (1130-24F70): 112-9378, 117-3468, 135-5549, 164-5499, 242-3514, 242-3517, 242-3518, 242-3519
Case New Holland
ABL 1130 Series 12V 55W Flood (1130-12F55): 178345A1, 327300A1, 335942A1, BN324749
ABL 1500 Series 12V 55W Twin Flood (1500-12FT55): 431025A1
---
Applications: Heavy Equipment, Mining, Construction, Road and Utility Equipment, Forestry, Agriculture
---
Dimensions:
Width: 6.18" (157 mm), Height: 3.74+" (95+ mm), Depth: 2.79" (71 mm)
ABL 1100 LED1200 Compact Parts Enquiry ▲