Brand: ABL Lights
Origin: USA
---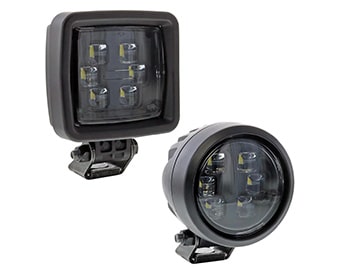 Click for:

With many beam patterns light can be accidentally shined not only on the worksite but also its surroundings. Properly lighting up the worksite is important for the safety of workers. Having light in areas where it is not needed can potentially lead to hazards for workers and on-coming traffic as it can shine into their eyes. That is why ABL developed the no-glare optic.
No-glare optic pushes the light emitted from the fixture forward and down forming a cut-off line. The light allows for the work site to be lit without blinding workers or on-coming traffic. Making for a safer work environment and reducing fatigue on workers.
The ABL No Glare optical modules cancel the dazzling effect without affecting the lighting coverage of the standard product, with a dedicated system, which drives the light only where you need it, increasing safety and comfort for other drivers and workers around heavy duty and handling operating machines.
As standard, this work light includes features such as the EMC CISPR25 class 5 as well as the integrated load dump, to meet the most severe manufacturer specifications.
ABL No Glare LED Work Light Range Features & Benefits  ▲
LED with 'No Glare' optical module
1000, 1500, 2000 effective Lumens (depending on model)
Meets CISPR 25 Class 5 standards
Connector: DT 2 pin
Hardened glass Lens
Load Dump: 36V CONTINUOUS / ISO 7637-2 Pulse 5a
IP68, IP69K ingress protection
15 Grms @ 24-2000Hz vibration resistance
60G shock rating
EMC: ISO 13766, ISO 14982, ISO 12985, CISPR25 Class 5
ABL No Glare LED Work Light Range Specifications  ▲
| | |
| --- | --- |
| Voltage | 12-24V DC multi |
| Tech | LED |
| Wattage | 14-29W (depending on model) |
| Current | 0.58-1.2A @ 24V DC (depending on model) |
| Lumens | 1000, 1500, 2000 effective Lumens (depending on model) |
| Operating Temperature | -40°C to +85°C |
| Beam Pattern | No Glare optics |
| Connector | DT 2 pin |
| Mounting | Pedestal, suspended |
| Lens Material | Hardened glass |
| Load Dump / Surge Dump | Surge: 36V continuous / ISO 7637-2 Pulse 5a |
| IP Rating | IP68, IP69K |
| Polarity | Protected against reverse voltage |
| Salt Spray Test | ISO 9227 |
| Vibration Resistance | 15 Grms @ 24-2000Hz |
| Shock Resistance | 60G |
| EMC | ISO 13766, ISO 14982, ISO 12985, CISPR25 Class 5 |
ABL No Glare LED Work Light Range Specification Flyers (PDF)  ▲
---
Applications: Heavy equipment, mining, construction, road and utility, material handling equipment, forestry, agriculture