Brand: J.W. Speaker
Origin: USA
---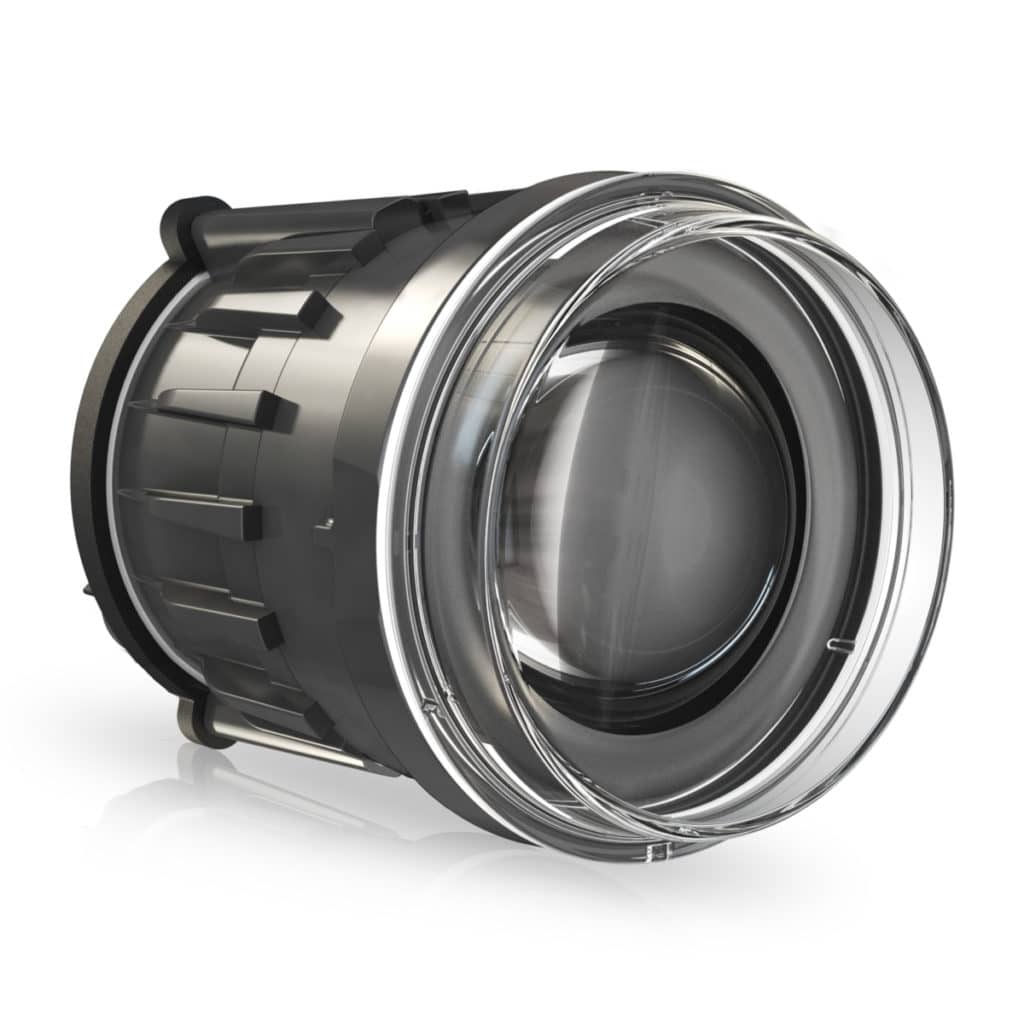 Click for:

Now engineered as a 5-in-1 headlight the Model 93 offers Low Beam, High Beam, Daytime Running Light (DRL), Front Position, and Turn Signal functionality all in one light.  Choose the Model 93 5-in-1 LED headlight as the new drop-in replacement standard for 90mm LED lights — or as the latest breakthrough for your next custom vehicle OEM project.
Optimise functionality and cost savings through combining multiple lighting functions into a single LED headlight. Ideal for up-fitters, vehicle fleets and individuals seeking a more stylish and versatile headlight, the Model 93 offers superior multifunction 5-in-1 performance for almost any application and setting.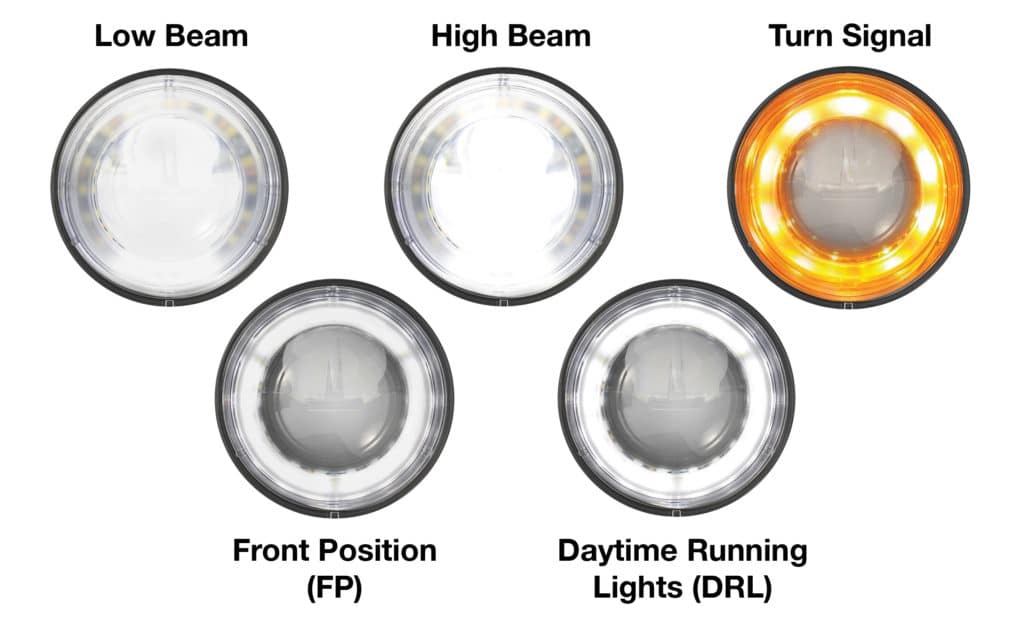 Cut down on costs and increase your functionality with any of J.W. Speaker's multi-functional lights:
On Road (RHT & LHT) versions 5 functions: LB, HB, DRL, FP, Front Turn
ECE Motorcycle version 4 functions: LB, HB, FP, DRL
SAE/DOT Motorcycle version 3 functions: LB, HB, FP Applications.
This brand new light offers a multitude of applications for a variety of vehicles for agriculture, automotive, construction, industrial, material handling, mining, motorcycle, off road 4×4, railroad, specialty vehicles, and truck and bus. This includes BELL articulated haul truck headlight replacement; Volvo articulated haul truck headlight replacement; Moxy articulated haul truck headlight replacement; BCI bus & coach LED headlight upgrades; Mercedes-Benz bus & coach LED headlight upgrades; as well as agriculture LED headlight replacement for John Deere, Massey Ferguson and New Holland.
Choose from industry standard 90mm 3-point mounts for 1.5mm or 3mm thick mounting plates, and single or double light pedestal mounting brackets, that come with all necessary hardware for a seamless installation. Pedestal mount brackets can be positioned at 90° intervals for maximum mounting flexibility, all while maintaining pattern integrity and legality. J.W. Speaker's re-designed die cast aluminium housing features a sealed integrated connector to meet the harsh demands of transportation and municipal applications. Dust and water ingress protection with a sealed vent cap and housing design that meet the tough criteria for IP67 and IP69K.
J.W. Speaker Model 93 5-In-1 LED Headlights Features & Benefits  ▲
Drop-in replacement for standard 90mm lights
100% ECE & DOT compliant 90mm lights for legal on-road use
Individually packaged with mounting options sold separately
Complete flexibility to choose the correct light and mounting configuration for every
application
Choose from 3-point mounts for 1.5mm or 3mm thick mounting plates
Meets the tough criteria for IP67 and IP69K for the best protection
Re-designed die-cast aluminium housing features a sealed integrated connector to meet the harsh demands of transportation and other on-road applications
Pedestal mount brackets can be positioned at 90-degree intervals while maintaining
pattern integrity and legality
J.W. Speaker Model 93 5-In-1 LED Headlights Video  ▲
J.W. Speaker Model 93 5-In-1 LED Headlights Specifications  ▲
Type
LED
Color Temperature
5000K
Lumens
5-in-1 Headlights (0560371, 0560381, 0560501)
1,827 rLumens (High Beam), 1,325 rLumens (Low Beam),
683 eLumens (High Beam), 495 eLumens (Low Beam)
Candela
5-in-1 Headlights (0560371, 0560381, 0560501)
44,000 Candela
Beam Pattern
5-in-1 Headlights (0560371, 0560381, 0560501)
High Beam (DOT/ECE), Low Beam (DOT), Low Beam (ECE Right Hand), Daytime Running Light (DRL), Signalization (FP), Signalization (Turn) (0560371)
High Beam (ECE), Low Beam (ECE Left Hand), Daytime Running Light (DRL), Signalization (FP), Signalization (Turn) (0560381)
High Beam (ECE), Low Beam (DOT/ECE), Daytime Running Light (DRL), Signalization (FP), Signalization (Turn) (0560501)
Current Draw
5-in-1 Headlights (0560371, 0560381, 0560501)
1.35A @ 12V DC, 0.7A @ 24V DC (Low Beam),
1.96A @ 12V DC, 1.0A @ 24V DC (High Beam),
1.3A @ 12V DC, 0.7A @ 24V DC (DRL),
0.11A @ 12V DC, 0.07A @ 24V DC (Front Position),
1.11A @ 12V DC, 0.59A @ 24V DC (Turn)
Voltage
5-in-1 Headlights and Single function Headlights
12-24V DC
Operating Temperature
-40°C to +65°C
Standards Compliance
Buy America Standards, ECE Reg 112, ECE Reg 7, Eco Friendly, FMVSS 108 s10.1 (Table XVIII), IEC IP69K
Lens
Polycarbonate
Housing
Die-cast aluminium
Mounting
90mm Light 3-Point Mount for 1.5mm Mounting Frame (8001461)
90mm Light 3-Point Mount for 3mm Mounting Frame (8001471)
Weight
1.18 lbs (0.54 kgs)
J.W. Speaker Model 93 5-In-1 LED Headlights ​Specification Flyer (PDF)  ▲
---
Applications: Buses and trucks, civil machinery, agriculture, construction machinery, automotive, material handling, mining, motorcycle, off-road 4x4, railroad, specialty vehicles, powersports
---
Dimensions:
Width: 3.54" (90 mm), Height: 3.54" (90 mm), Depth: 3.74" (95 mm)
J.W. Speaker Model 93 5-In-1 LED Headlights Parts Enquiry ▲