Brand: PreView
Origin: USA
---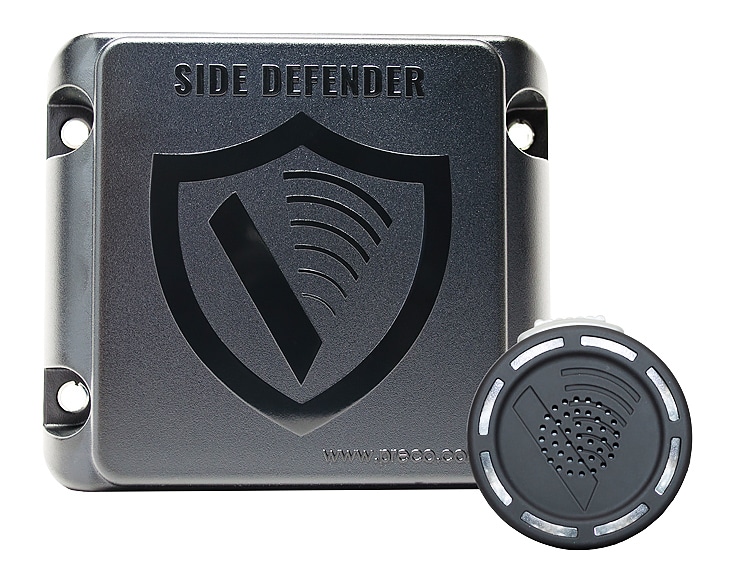 Click for:

PreView® Radar Systems from Sensata is an Advanced Driver-Assistance System (ADAS) – a rugged and reliable object detection technology that assists with protecting people and property.
PreView Side Defender®II Radar System, the industry's most advanced side collision avoidance solution, has been developed specifically for over-the-road waste, refuse, and recycling truck operators in suburban, metro and city operations.
According to independent research, the incidence of highway and urban collisions are rising by almost 10% per year. PRECO believes that this is unacceptable and we are driven to design technology that assists heavy duty vehicle operators to mitigate these avoidable accidents.
The Side Defender®II system actively warns operators with audible and visual alerts, in order for them to take the appropriate actions to mitigate collisions. Additionally, it has the ability to integrate with telematics applications, vehicle control systems, vision systems or other sensors using industry standard communications.
As part of the Side Defender®II system, the PreView® v2 in-cab display equips operators with more intuitive audible and visual alerts while offering installers more flexibility and time savings. For retrofit applications, the new display can provide a GPS based vehicle speed message, while OEMs and bodybuilders can connect the display directly to the vehicle CAN-bus for vehicle speed information.
PreView Radar Systems for Rubbish Trucks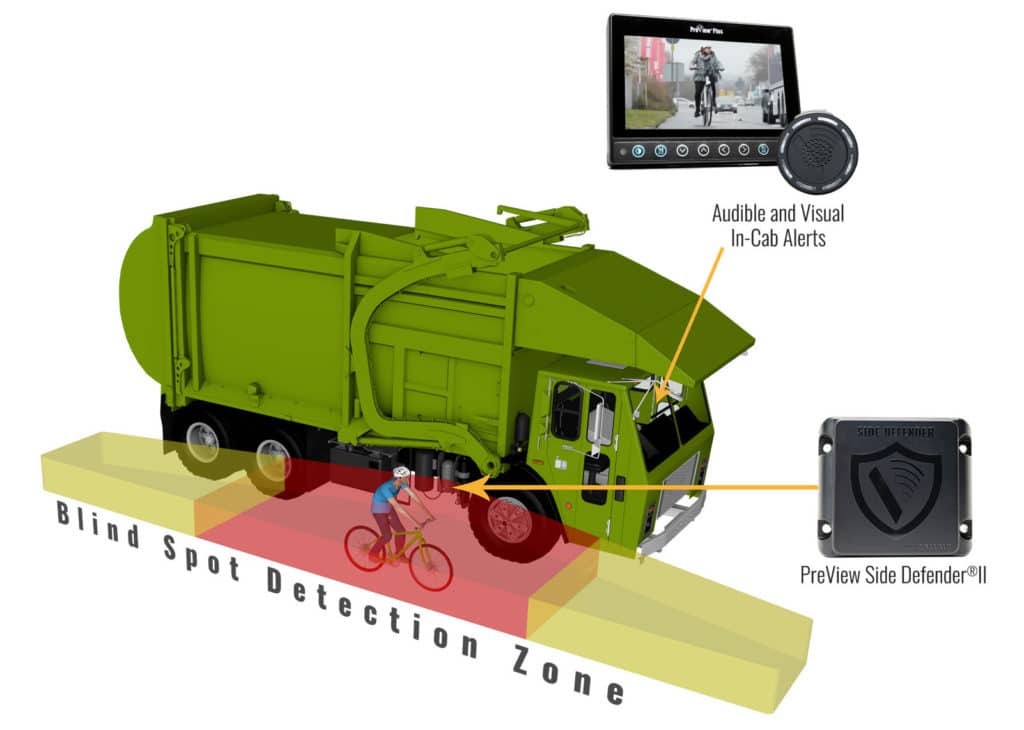 PreView® Side Defender II Radar System for Waste Features & Benefits ▲
Suitable as an ADAS Radar System for Rubbish Trucks
Frequency: 24Ghz
Detection range (fore/aft): 20'/6M forward and 20'/6M back/aft
Detection width: 10'/3M to 8M)
Current Draw: Less than .25 AMP
Operating Temp: -40 F/ +185 F (-40 C to +85 C)
Sensor Dimensions: 4.9"H x 4.06"W x 1.28"D
Display Dimensions: 1.0"H x 2.3"W x 2.0"D
Built to meet rugged J1455 Specs
Utilizes standard CAN communication protocols (J1939, ISO 11898)
PreView® Side Defender II Radar System for Waste Videos ▲
PreView® Side Defender II Radar System for Waste Specifications ▲
| | |
| --- | --- |
| Range | 20' (6.1m) forward & aft of sensor (10dBsm target) |
| Side-lane Range | 3m |
| Range Accuracy | 0.3m |
| Velocity Range | ± 31 meters/sec (± 70 mph) |
| Velocity Accuracy | 0.2 meter/sec (0.5 mph) |
| Target Resolution (Targets Merge) | 1.4m for static targets, approaching 0.3 meters for dynamic |
| Target Update Rate | 120ms |
| Center Frequency: | 24.125Ghz (ISM Band) |
| Bandwidth: | 240MHz |
| Regulatory: | FCC Part 15.249, EU ETSI EN300-440, Narrowband 24GHz legal in most countries |
| Voltage | 9 –33V DC |
| Current: | <0.25A |
| Operating Temperature: | -40C to +85C |
| Shock: | 50G |
| Vibration: | 25G, random, all three axis |
| Protection Rating: | IP69K |
| Mounting Height: | 18" – 24" from bottom of sensor to ground |
| Mounting Position: | Perpendicular to ground and parallel to vehicle body |
| Protocol Layer: | SAE J1939 Extended (CAN-bus) |
| Data Update Rate: | 70 ms |
| Stopped/Slow Speed: | 0 – 10mph – Detect moving and stationary targets, Detection zone is optimized for human detection |
| High Speed: | >10mph – Ignore stationary objects (e.g. guardrails), Detection zone is optimized for vehicle detection |
| J1939 CAN Bus: | Supports either 250 or 500Kbits/sec |
| Connector: | Deutsch DT06-08SA-E008 |
| Housing Material: | Polycarbonate radome |
| Mounting: | Four 0.22" (5.58mm) diameter mounting holes. |
| Sensor Weight | 1.0 lb (0.45 kg) |
| Sensor Dimensions (DxWxH) | 1.28x4.9x4.06" (32.5x124x103mm) |
PreView® Side Defender II Radar System for Waste Specifications Flyer (PDF) ▲
Manuals
---
Applications: Waste Trucks, Garbage Trucks, Recycling Trucks, Waste Industry