Brand: PreView
Origin: USA
---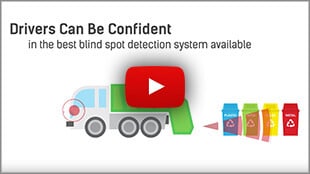 Introducing PreView Wireless for Waste
PreView® Wireless utilises Preco's patented, pulsed radar technology to detect objects in an operator's blind spot and reduce backing accidents. If something is detected, the operator receives an audible and visual active warning in the cab, giving them time to react and avoid an accident.
By eliminating the need to install cables through the truck body, PreView Wireless reduces installation time by more than half, while still providing the best blind spot detection protection available. Made from rugged components designed to withstand the harsh environmental conditions found in many industries, from mines and construction sites to long-haul travel and ports.
[wr360embed name="Preview-Wireless-WorkSight" width="100%" height="300px" config="https://www.aps-supply.com/wp-content/plugins/webrotate-360-product-viewer/360_assets/Preview-Wireless-WorkSight/Preview-Wireless-WorkSight.xml"]
Features and Benefits
Secure dedicated wireless network connection
Detection Range* up to 15m (45ft) with the ability to set detection zone as low as 3m (10ft). Offers ability to customise the visual and audible alert at different distances.
Detection range customised through the in-cab display
Provides one touch audible alert acknowledgement
Warning alerts automatically change as the threat of accident increases
Intuitive graphics for each detection zone utilises standard warning protocols: Stop sign, Yield sign and Green light
Less than 0.25A current draw
Connects to reverse lights for power
Ability to customise detection zone onsite with PrecoNet Service Tool
Built to meet rugged SAE J1455 Specs
* Detection Range is dependant upon the type of obstructions between the sensor and display location.
PreView® Wireless WorkSight – Pulsed Radar Specifications
Detection Ranges
User adjustable from 3 - 15m (10 - 45ft)
Warning Ranges
User adjustable
Transmitter
Pulsed RF transmitter at 5.8GHz operating under FCC Part 15.249
Voltage
9-33V DC
Electronics
Solid state
Current Draw
0.2 amp maximum, inrush current limited to 1A
Vibration
25G RMS all three axes
Shock
25G all three axes
IP Rating
IP67 (encapsulated to protect from dust and moisture)
Operating Temperature
-40°C to +85°C
Wireless
ZigBee 2.4GHz, IEEE 802.15.4 compliant DSSS baseband
Compliance
Compliant with FCC part 15.247, FCC ID: OXZWD7102
Data Update Rate
125 ms
Polarity
Negative ground, polarity protected to 150V
Transient Spike Protection
Over voltage protected to 150V
Housing (sensor)
Polycarbonate radome
Sensor Mount
Four 0.25" (6.4mm) diameter holes on 8.54" horizontal centers and 2.00" vertical centers.
Unit is supplied with #10 SS screws for mounting purposes.
Display Mount
User dependent, ¼-20 thread
Sensor Connection
Deutsch DT06-08SA-E008
Display Connection
Three 26 AWG wires, connect to ignition and/or reverse lamp circuit
Display Aux Output
Single 26 AWG wire, +33V tolerant
Active State: switched to ground, over current protected to 125mA sink maximum.
Inactive State: high impedance
Sensor Weight
2.3 lb (1.04 kg)
Sensor Dimensions (DxWxH)
1.4x10.5x4.4" (36x267x112mm)
Display Weight
0.27 lb (0.12 kg)
Display Dimensions (DxWxH)
1.34x3.6x3.36" (34x84x85mm)
Wireless Signal Range
Up to 15m / 45' (please test this range prior on the vehicle as this may vary
depending upon the type of obstructions between the sensor and display location)
Specification Sheets
Manuals
Installation Guide
---
Applications: Heavy equipment, mining, agriculture, oil & gas, construction, long-haul, trucks, material handling, port & marine, military, utility vehicles
Related Products