Brand: ABL Lights
Origin: USA
---
The ABL 500 LED850 Gen2 Series Work Lamp has now been marked as obsolete. We have limited stocks left, so please don't hesitate to contact us via the Parts form below if you require this product. Manufacturer recommended replacement is: ABL LED1000 Heavy-Duty Work Light.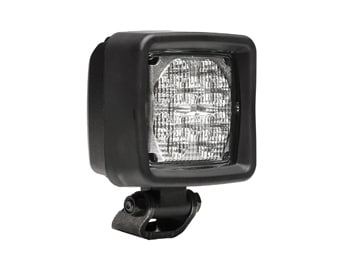 Click for:

The ABL 500 LED850 Gen2 Series 11W Work Lamp is a new multi-volt LED work lamp offering a direct substitution for your 12V 55W & 24V 70W Halogen and 35W HID. It is equipped with a patented LED-engine holding high performance LEDs. To secure high output, performance and long life, a patented cooling system is used.

ABL 500 LED850 Gen2 meets the demands of the heavy equipment industry.
ABL 500 LED850 Gen2 Series Work Lamp Features & Benefits ▲
Designed to exceed everyday demands in all applications
Stringent engineering and testing practices
Highest efficiency and durability in the harshest conditions
ABL 500 LED850 Gen2 Series Work Lamp Specifications ▲
| | |
| --- | --- |
| Bulb | 12 LEDs |
| eLumens (effective) | 850 lm |
| Colour Temperature | 6000K |
| Light Pattern | Flood, long range |
| Consumption | 11W |
| Voltage | 12-24V multi |
| Intensity | 0.46A @ 24V |
| Weight | 0.9 Kg |
| Vibration Resistance | 15 Grms from 24 - 2000Hz |
| Shock Resitance | 60G |
| EMC | ISO 13 766 - ISO 14 982 - ISO 12 895 |
| Load Dump | 36V continuous, 72V 100ms, 1800V 50μs |
| Polarity | Protected against reverse voltage |
| Electronic Thermal Management | Full output @ +35°C ambient, 25% dimmed @ +50°C ambient |
| Water Tightness | IP 68 - IP 69K |
| Operating Temperature | -40°C to +85°C |
| Salt Spray | ISO 9227 |
| Lens | Hardened glass |
| Reflector | Free from reflector |
| Warranty | 5 years |
ABL 500 LED850 Gen2 Series Work Lamp Specifications Flyer (PDF) ▲
---
Applications: construction, mining, support vehicles, material handling, agriculture, forestry
ABL 500 LED850 Gen2 Series Work Lamp Parts Enquiry ▲