Brand: PreView
Origin: USA
---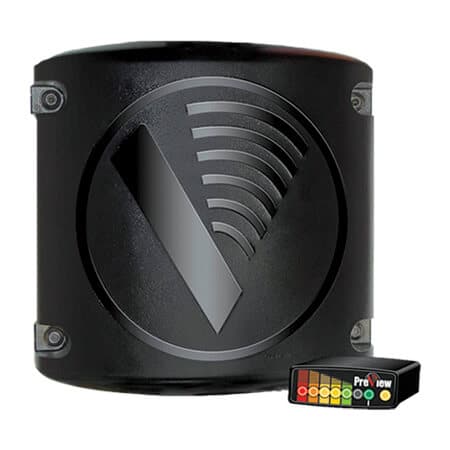 Click for:

PreView® puts the control back into the hands of your operators, your first line of defence against accidents.
Stand-alone proximity detection solution
Increase mine site safety
Easily integrates with other safety tools
Xtreme PreView® is a pulsed radar object detection solution designed to detect moving and stationary objects in blind spots to significantly reduce accidents. PreView® consists of three simple components:
External sensor(s)
In-cab display(s) to provide audible and visual notification to the operator
Robust cable system to connect the sensor and display. Coverage area can be up to 32ft/10m depending on the sensor chosen and your specific needs.
Built for the rugged mining environment, Xtreme PreView® detects objects through fog, snow, rain, dirt, mud, debris, and other extreme elements and weather conditions. Once an object is detected, the in-cab display provides ranging information to the operator so he can react before an accident occurs.
In comparison to other PreView® Radar sensors, Xtreme PreView® offers the longest detection zone. The in-cab LED display shows the proximity to the object(s) detected. The result is safer manoeuvring and detection for busy mining sites.
PreView® Xtreme Duty Features & Benefits ▲
Prevent injuries and fatalities – Accidents, whether they happen under ground or above ground, can be tragic and irreversible events. Compounding this may be potential negative repercussions from stakeholders. By preventing accidents, PreView® lets you stay focused on your business and its bottom line.
Lower costs – Not all accidents end tragically, but many of them can cost a small fortune.  Sometimes a minor collision bender can run a quarter of a million dollars, significantly more expensive than a PreView® safety device.  Not to mention, the accident and unwanted attention could lead to reactive and costly safety measures and increased insurance premiums.
Reduce downtime – The more your machines are in for repair, the more it costs you in lost productivity.  PreView® can help lower the risk of accident and need for repairs and keep your machines on the job, not in the shop.
Improve site efficiency – No longer will fog or inclement weather slow down your operations or make them unsafe.  Machines fitted with the PreView® detection system use pulse radar, not just cameras, to detect, for instance, the safety berms installed on the side of the road or at dump locations.
PreView® Xtreme Duty Videos ▲
PreView Xtreme Sensor Specifications ▲
Model
XPV4220A, XPV4226A, and XPV4232A
Detection Ranges
10m (32')
Programmable Ranges
3 to 10m (10' to 32')
Warning Ranges
5 zones divided into programmed range
Minimum Resolution
0.3m (1')
Transmitter Frequency
Pulsed RF transmitter at 5.8GHz operating under FCC
Voltage
9-33V DC
Current Draw
0.2A maximum, inrush current limited to 1A
Operating Temperature
-40°F to +185°F (-40°C to +85°C)
Vibration
25G RMS all three axes
Shock
25G all three axes
Physical Layer
CAN 2.0B, 250 KB/s
Data Upload Rate
70 ms
Protocal Layer
SAE J1939 Extended, Built to meet rugged SAE J1455 Specs
Connector
Deutsch DT06-08SA-E008
Sealing
Electronics sealed from dust and moisture
Voltage Protection
Over voltage protected to 150V
Polarity
Negative ground, Polarity protected to 150V
Power Connection
Available through sensor connector
Auxiliary Output
+150V tolerant, Active State: switched to ground, over
current protected to 1 amp sink maximum. Inactive State:
high impedance
Housing (sensor)
Polycarbonate radome
Compliance
Compliant with FCC Part 15.249 (5725-5875MHz),
FCC ID: OXZPV2000A
Sensor Mount
Four 0.328" (8.3mm) diameter holes on 6.50" horizontal centres, and 5.00" vertical centres.
Unit is supplied with ¼-20 screws for mounting purposes.
Recommended torque is 50 inch-lbs.
Sensor Weight
1.0 kg (2.2 lb)
Sensor Dimensions (DxWxH)
2.39x7.35x7.56" (6x18.7x19.2mm)
PreView Xtreme Display Specifications ▲
| | |
| --- | --- |
| Model | CD6102, XPV4103, and XPV4104 |
| Housing (sensor) | Polycarbonate / ABS alloy |
| Display Mount | User dependent |
| Display Weight | 0.11 kg (0.25 lb) |
| Display Dimensions (DxWxH) | 2.39x7.35x7.56" (6x18.7x19.2mm) |
PreView® Xtreme Duty Specifications Flyer (PDF) ▲
Manuals
Installation Guide
Reduce your blind spot accidents by more than 75% like other PreView customers.
For more information click on the PDFs below:
Accident Stories



Vehicle Types
---
Applications: Heavy Equipment, Mining, Agriculture, Oil & Gas, Construction, Material Handling, Port & Marine, Military, Utility