The ECCO ED0001 Series of directional flashing lights are ideal for safety applications in surface and underground mining, construction, transportation, and municipalities.
Operating on 12-24V DC multiple voltage – being suitable for almost all mobile equipment, this fixture features a high SAE J595 Class I compliance and IP67 ingress protection rating. With 24 flash patterns, 5 colour options (white, amber, red, blue, and green) for vehicle identification, easy surface or bracket mounting. This bright light is ideal on the haul roads for tramming equipment such as drills, track equipment and excavators, where the light can warn others that the equipment is moving and approach with caution or permission is required to pass.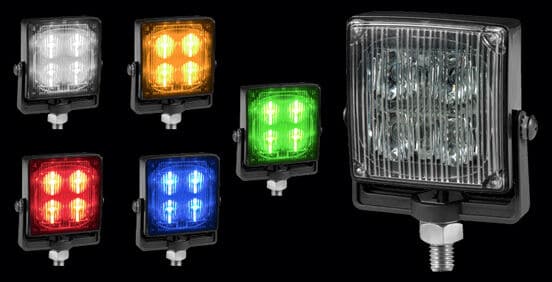 For haul trucks, the blue light version is often mounted outside and on top of the cab. The blue light comes on when the retarded braking system is engaged, warning oncoming traffic that the truck is in the retard mode (e.g. haul truck is moving downhill and loaded) so caution is advised. This light can also be used for construction equipment, forestry vehicles, utility vehicles, medical EMT vehicles.
To learn more: Click Here